Decorate Your Rental Like a Pro with A Whimsy Wonderland's Tips
A Whimsy Wonderland is a Los Angeles-based lifestyle blog founded by Cortney Moore and Jenna Stocks. They are a quirky and bright pair, who find happiness in pops of color and killer decor. As Tennessee and Oklahoma natives with backgrounds in fashion, these women make sure to keep their styles fresh and unique by tapping into their southern roots.

Originally meeting at their day jobs at BHDLN, these two became friends through donuts, margaritas, and a shared desire to become bloggers. Both possessed an obsession with fashion and the entrepreneurial spirit to be their own bosses. They created A Whimsy Wonderland for fun, but once the brand started to take off they decided to quit their 9-5's to pursue their dream full time.
This duo is all about finding the trendiest items at an affordable price. As apartment renters, they have mastered how to short-term renovate without long-term damage. Cortney's recent living room update features Henry Rivers' graphic print of Paris, (an original iCanvas framed print).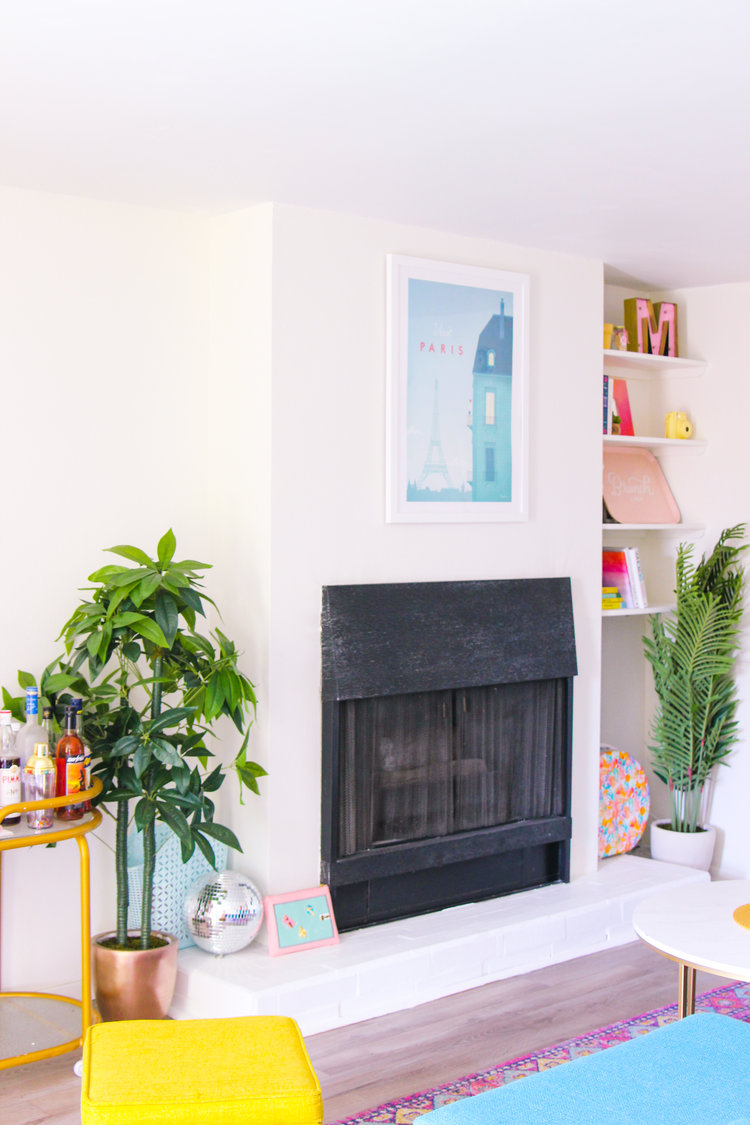 This light blue piece contrasts beautifully with Cortney's pink accents and is a fast, easy way to brighten up white walls! When renting and unable to paint your walls, large canvas prints are a unique and security-deposit-friendly way to personalize your space.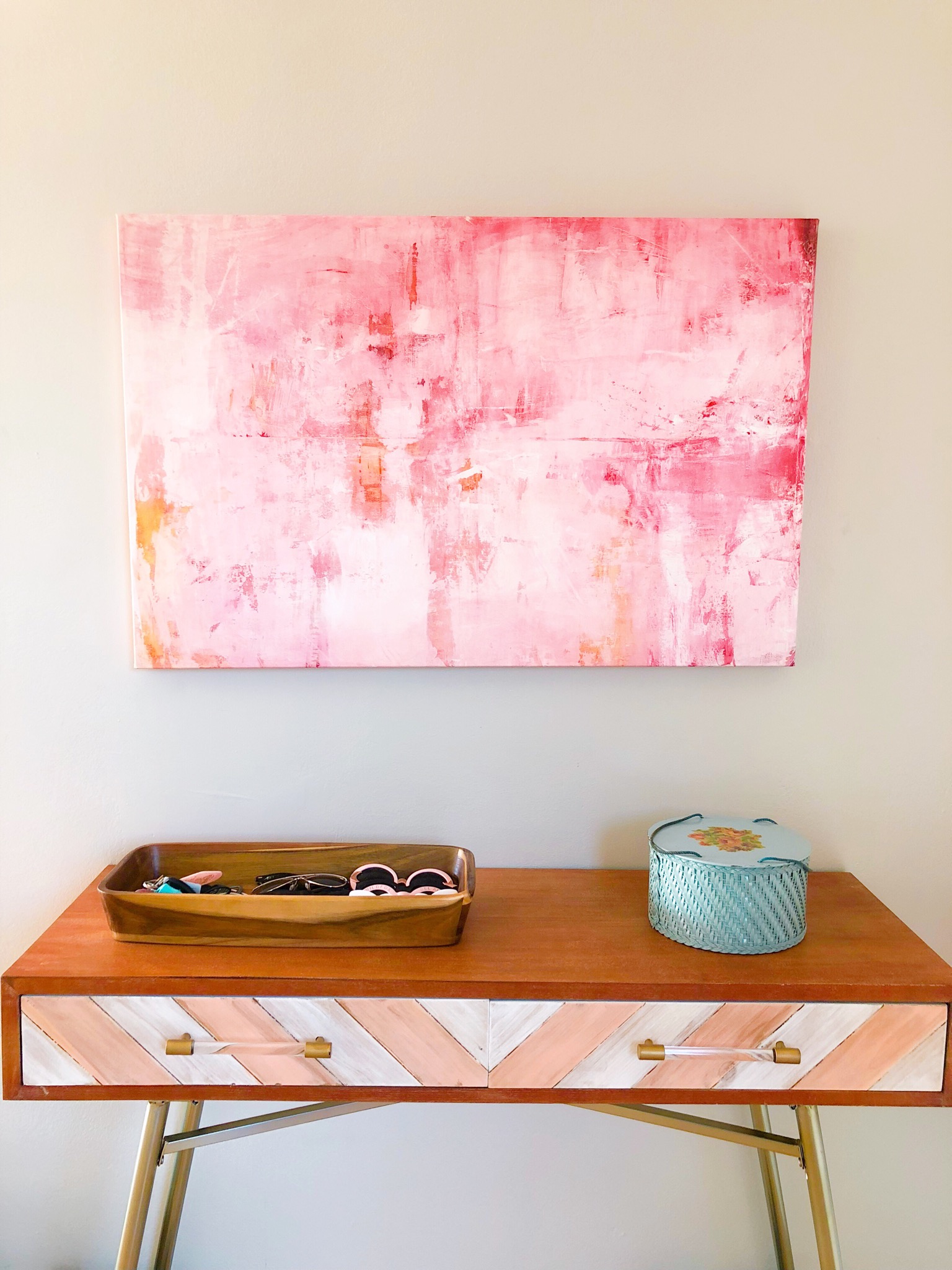 Jenna's favorite iCanvas piece is Michelle Oppenheimer's Pink Mirrors. Its pink and orange hues beautifully complement her mid century modern end table with peachy pink accents. With its unique attention to brushstrokes, this print makes this area feel polished, vibrant and down-to-earth.
We teamed up with this pair right as they were in the midst of revamping their apartments and took some time to talk about their styling and decorating process.
---
Where do you find inspiration when decorating a space?
Instagram plays a huge role in where we find inspiration! We follow so many different people whose homes we absolutely adore, and take notes of the aspects we like of each decorating styles. Pinterest is also a great place to find inspiration, and its search tool allows you to find almost anything! Also, old magazines (we both love the flair of mid-century modern), even some movies have given us inspiration that we've kind of logged away!
How would you describe your personal styles?
Cortney: I define my style as boho and bright. I enjoy really colorful pieces but also have a touch of mid-century modern in me.
Jen: I would lean more towards mid-century modern, but I also enjoy adding pops of color and maintaining a very electric and vibrant ambiance to myself!
What are the challenges you've faced with your new spaces? How are you addressing those?
Obviously there are SO many projects we want to do, but because we don't own our homes we run into many setbacks. Finding "rental friendly" ways to accomplish the looks we want in every room can be challenging, but it's a fun challenge! It just takes a lot of research, and trying some things out before settling on final decisions!
Why is it important to you to have art in your home?
We both spend a lot of time in our homes. We work from home for the most part, and we both just enjoy spending our time there. Having art just makes us happy! [Cortney:] For instance, the Paris print in my home reminds me of my favorite trip every time I look at it! It's important to create a space that makes you happy and comfortable to come home to.
We really enjoyed your post about your gallery wall Jenna, how did you go about designing it?
I have been collecting art pieces for several years now, just WAITING for a space to display them in. I always knew I wanted to do a gallery wall. First, I laid them out on the floor and rearranged them a million times. It's all about trial and error, haha! Finally, they were perfectly-unperfect, and my boyfriend and I took several hours measuring the wall and hanging them up! It's one of my favorite spaces in my apartment.
Any quick tips for redecorating on a budget?
Thrifting or flea markets! These places are great for finding items at a more affordable price that can be restored. Also keep an eye out for holiday sales from your favorite brands. We've scored a lot of pieces on Black Friday, Memorial Day, Amazon Prime Day and iCanvas sales!
---
Do you have budget-friendly decorating tips? Share them with us in the comments below, and be sure to follow us and A Whimsy Wonderland for more decor inspiration!