2019 iCanvas Art Scholarship – Honorable Entries
Every year, iCanvas offers a $1,000 scholarship to a student of the arts. And each year, we're overwhelmed with promising students showing off their artistic skills. For the first time, we're showcasing some of the entries that, while they didn't win, certainly caught eyes around the office.
Take a look at some of the talent on display by artistic students around the country, and keep your eye on their careers as they pursue their passions. We're excited to see all the art they'll bring into the world!
---
Rachael Vince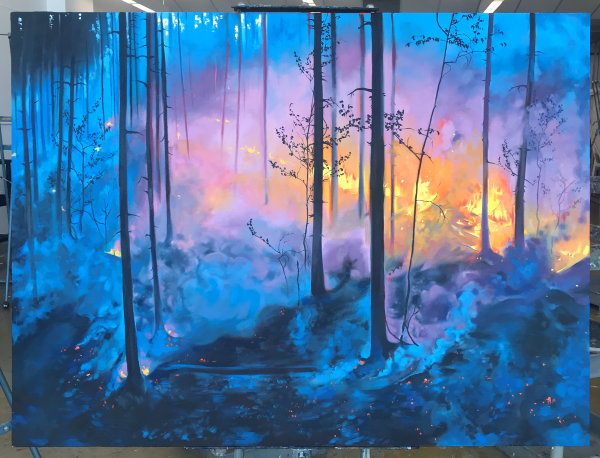 Submitted Statement: Raising climate change awareness through art is vital in today's society. One of the greatest challenges with climate change is its intangibility. This issue is much larger than us – too large to grasp and easy to ignore. Painting the effects of climate change places this issue in a scale that is more tangible. As temperatures rise, natural disasters such as wildfires are becoming more frequent and more intense. With an increase in wildfires, they pose serious health risks. Watching the news covering these devastating fires, I'm struck with the surreal atmosphere generated from the plumes of smoke and ominous glow permeating from the flames. Visually captivating, natural disasters are giants reminding us of our ephemerality.
---
Alexandria Dannhardt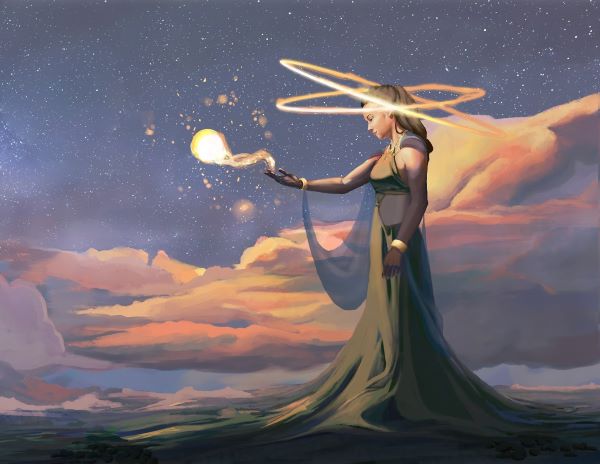 Submitted Statement: This was part of a three piece series about Mother Earth letting go of my little sister and allowing her to grow up into the strong, beautiful woman she's turning into. At a point, we all have to let go the ones we love and let them explore the universe and world themselves, and just hope they'll be ok.
---
Deanna Kilby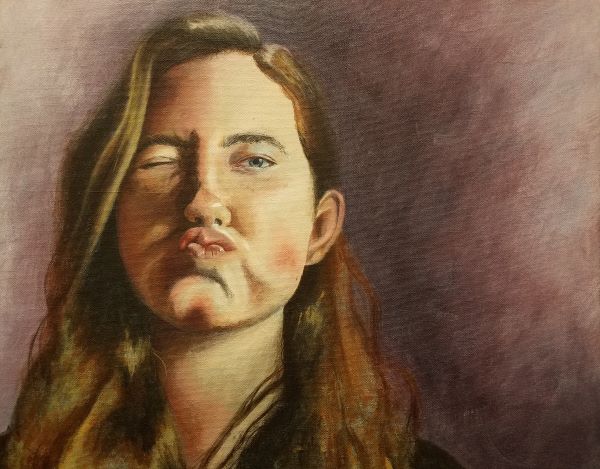 Submitted Statement: This piece is a self-portrait done in acrylic paint on canvas. It was created as a project for one of my first art classes. Our assignment was to paint a self-portrait on canvas, stretched over a handmade frame. I spent many hours on this piece, both in making the canvas frame and painting the image. In planning my composition, I went with a less serious and more dynamic expression to give myself a challenge, and to also imbue the piece with a greater sense of personality. A friend of mine saw the piece in its beginning stages and said to me,"Oh, you're making that face", inspiring the title. This piece was personally enlightening in a technical sense, but also emotionally. Painting a portrait, whether it is of oneself or someone else, is a deeply personal and emotional process, something I realized while creating this piece.
---
Maria Wichman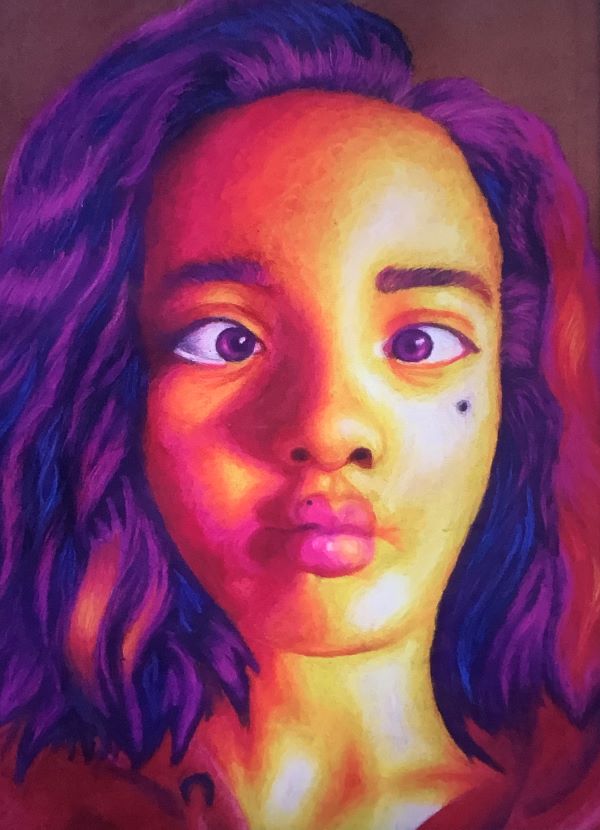 Submitted Statement: This piece is titled "Monika." Monika is my 15-year-old little sister and I love her very much. A couple years ago, when she came to me, telling me how she always felt sad and tired, I wanted to do all I could to help. I offered her a shoulder and an ear, but I knew I couldn't offer her everything she needed and encouraged her to reach out further. Not long after a doctor's appointment we discovered she battles depression. Now she has the resources she needs to be her most happy self. She is an energetic and youthful spirit. She isn't defined by her depression, but rather how she shows her colors in the face of gray. I express this in my chalk drawing of her.
---
Rogelio Garcia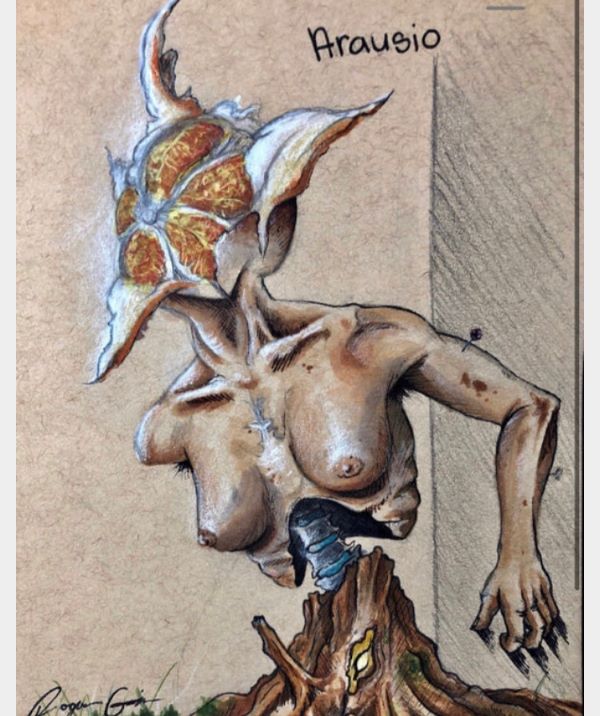 Submitted Statement: "Arausio" is a piece of concept art I decided to create that reflected my personality. This was showing my interest in fine art as well as sending the message of me slowly peeling back the layers of my personality and showing vulnerability by coming out of the ground. The orange peel and tree stump depict these messages.
---
Lilly Bridge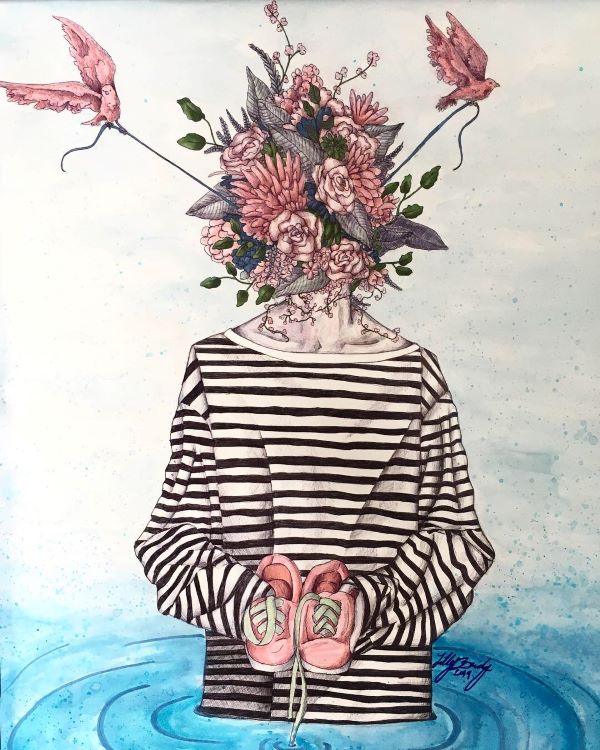 Submitted Statement: When creating this piece, my mind continuously mulled over the Welsh word "Hiraeth" which translates to "A longing for home." This painting was created over the span of several months in which I was going through some very difficult experiences. Each brushstroke and mark of ink represents to me the fact that our human condition, although it may appear fleeting or fragile, is actually enduring and infinitely strong. The beauty and tranquility that can be found in the midst of trial or chaos is represented in this watercolor and ink painting.
---
Ayanna Terry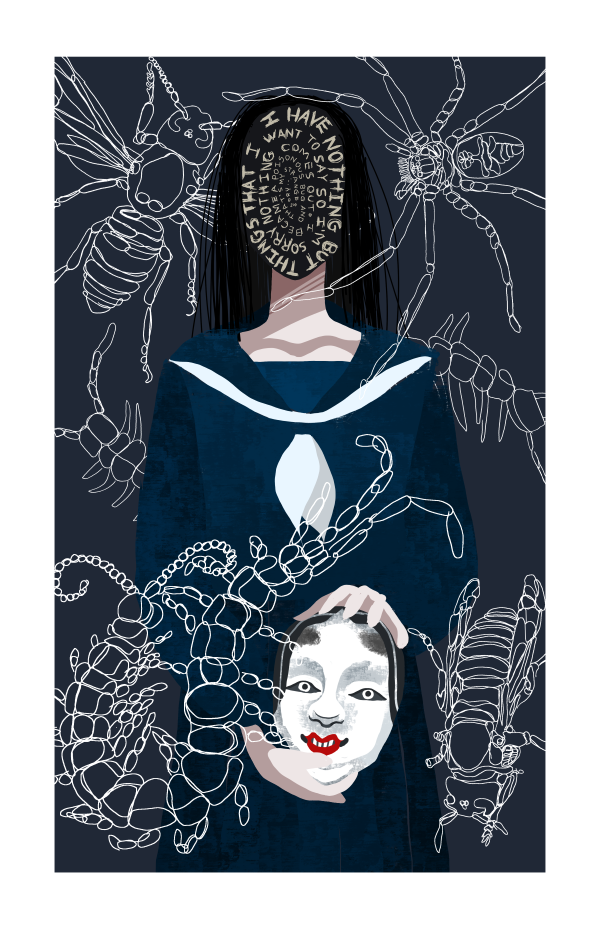 Submitted Statement: This was a typography assignment for Design 2 in college. Both imagery and type was created in Photoshop. My Inspiration was from a song that frequently echoed in my head. "Even though I have nothing but things to say, I'm sorry that nothing comes out/ I became a poisonous bug and that's my strange story." It's difficult to understand at first, but relating them to my experiences make them seem crystal clear. I'm described as bubbly, sociable, and warm. However, despondent thoughts due to anxiety and depression leads me to disagree. These toxic thoughts make me feel like a "poisonous bug". I want to share my thoughts with prospect of being understood, but it stands as a challenge. I find that "nothing comes out". My piece reflects this in the void the song swirl in, eventually lost as they slip into girl's mind. She's taken her mask off, which is modeled after a Japanese theater mask, attempting to reveal her true self. Even so the words fail to reach properly, as they are too difficult to read. Giant centipedes, giant hornets, and huntsman spiders accompany her, all poisonous bugs. Through art I have conveyed feelings that I cannot verbalize.
---
Emma Sullivan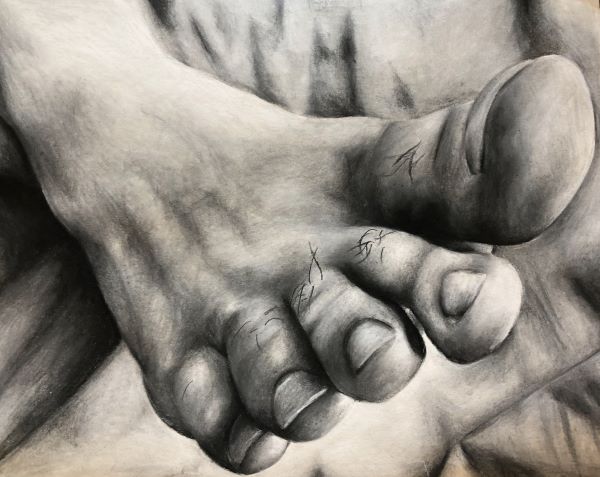 Submitted Statement: I completed this piece for my AP Art portfolio. I created it using charcoal pencils. My overall study focuses on different parts of the body, so with this piece, I tried to observe the foot from a unique angle to make the piece more interesting.
---
Asia Anderson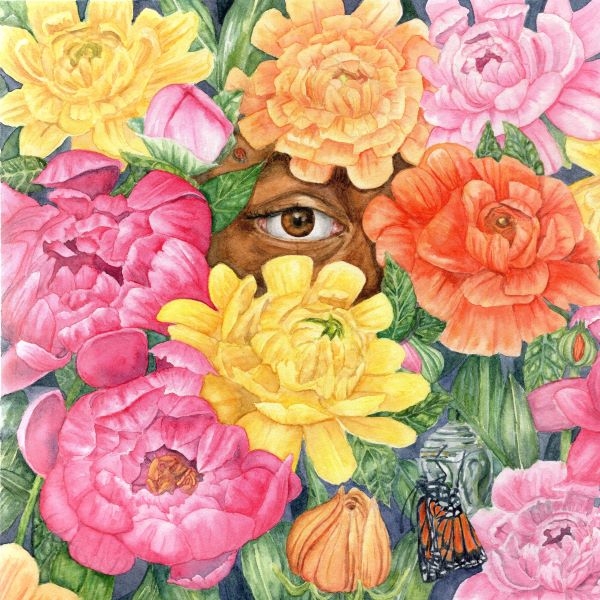 Submitted Statement: Combining my two loves, gardening and watercolor, I created Awakening. Each flower in the painting was referenced from flowers I've grown. I appreciate the process it takes for plants to grow. The watering, sunlight, nutrients and pruning, it takes work and energy for a flower. I relate those efforts to people's own ability to grow and change. In a way one's mind is like a garden. It has to be nurtured and cared for in order to flourish. It requires constant upkeep or else it will wilt and wither. Awakening is about the state of mind coming to after a spell of darkness. I like to incorporate pieces of me into my art. Gardening has been part of my own mental health strategy. It helps me get fresh air and to clear my mind.
---
Asia Feathers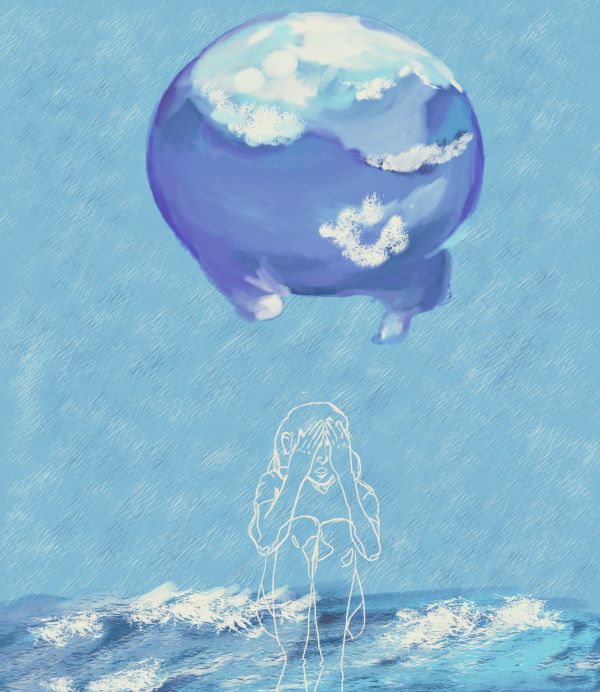 Submitted Statement: This piece was inspired by my phobia of water. It was created in Autodesk Sketchbook for an AP art class my senior year of high school.
---
Priscilla Davis
Submitted Statement: I made this piece after I was inspired by the album "Bandito" by twenty one pilots. I admire the band's openness to discuss their struggle with mental health, how it feels like they're constantly wrestling with this other "persona" that embodies death, but still seem drawn in by them. I wanted to create a piece that drew the viewer in, just as the album did for me.
---
Katherine Cortez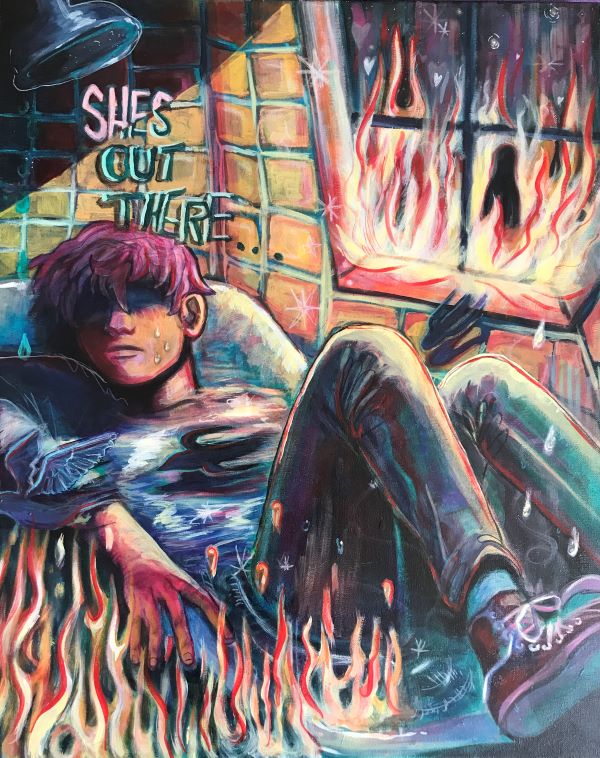 Submitted Statement: This piece is done in acrylic on canvas. I think storytelling is really important art, so my paintings all have a story to tell. I enjoy horror and fantasy, so this piece tells the story of a boy who is haunted by a figure that takes the shape of a bird. I also decided to play with the theme that colors represent by turning normally "happy" colors into ones that convey the feeling of the story.
---
Josh Carter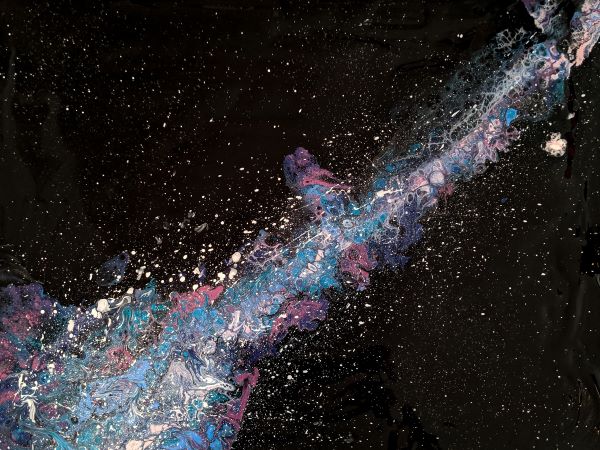 Submitted Statement: This was my first time trying Acrylic pouring and I found a love for it! I have always been inspired by the vastness of space and have used that inspiration in a lot of my art. Truly we can't fully comprehend how large and infinitely massive space is, and I chose to represent that here.
---
Samantha Fulk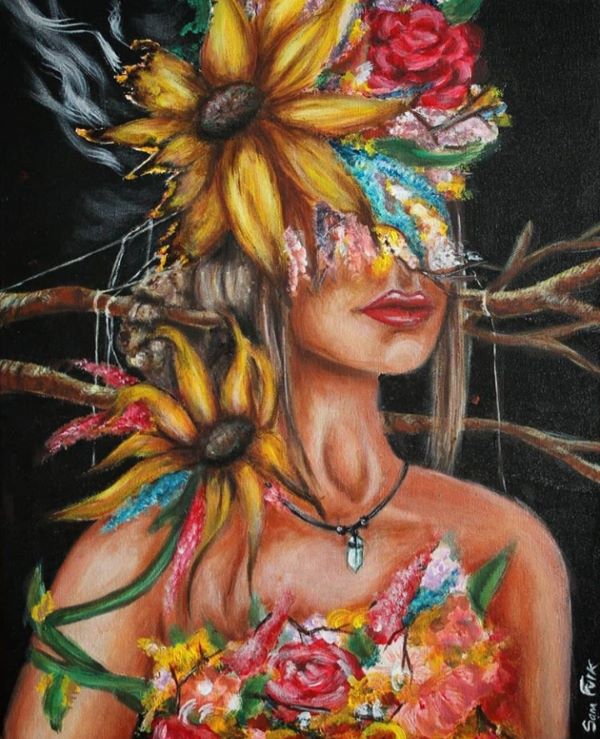 Submitted Statement: Through a restless ambition, this painting came to life one rainy night when I came to the realization that I was entering a new chapter of my life–one where I was no longer a girl, but becoming an adult in a very professional world. I chose to use acrylic paints because I like the way I can blend the medium while having the freedom to rework into the art any ideas that might have changed along the way. This piece started out as a girl navigating her world as represented by a garden and innocence in her beauty and it morphed into the burning or withering away of the beauty as I felt the stresses and pressures of the outside world bear down.
---
Gracie Gomes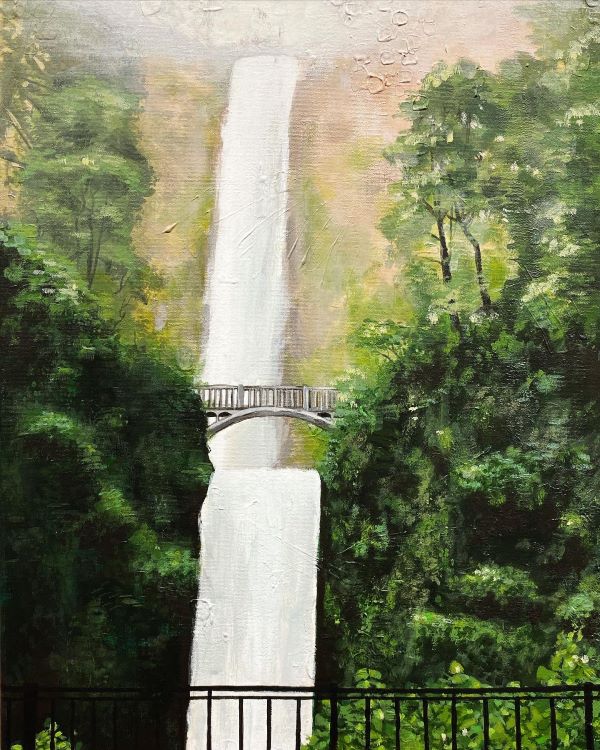 Submitted Statement: This acrylic painting, titled "Multnomah," is based on a photo I took at Multnomah Falls in Oregon while on a road trip with my mom. We traveled from Northern California all the way up into Washington, and then back down the coastline. I hold the memories of that trip very close to me, and will never forget the various things my mother and I saw and experienced. I translated those feelings of awe and wonder into this piece.
---
Jasmine Delgado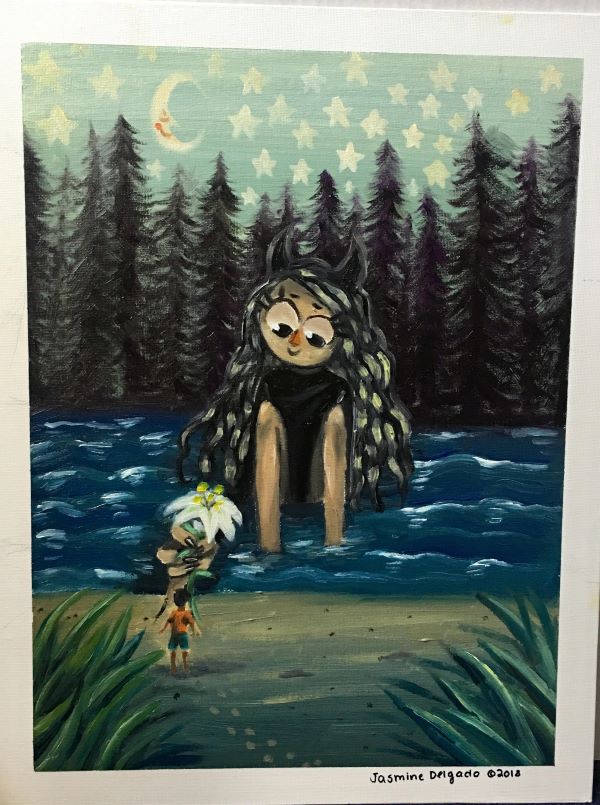 Submitted Statement: This painting depicts a gentle giant showing kindness to a boy as he is lost in a forest and unsure of what to do. I made it in 2018 using oil paint. I wanted to create a piece based on what was going on with someone close to me at the time. He was confused and scared and I wanted to offer him my care and support.
---
Collette Campbell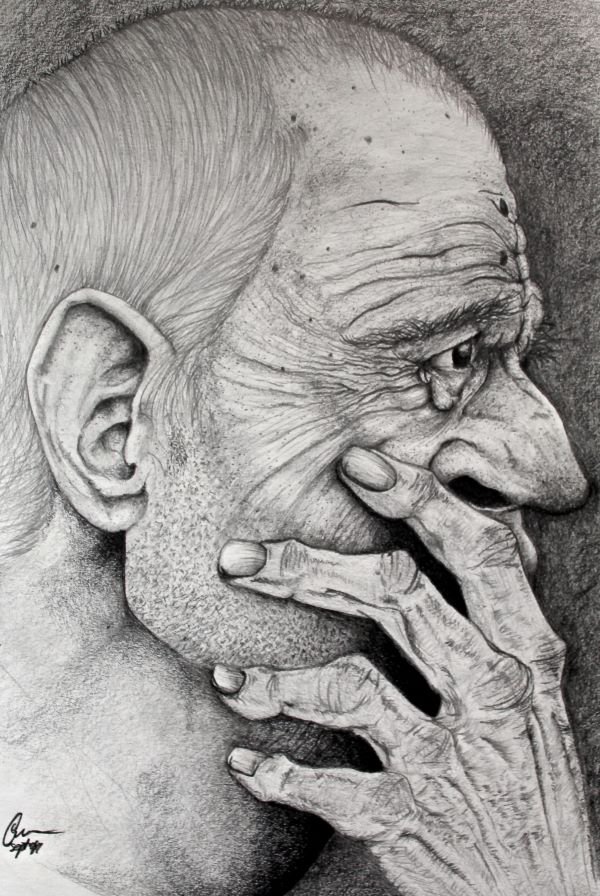 Submitted Statement: I enjoy drawing faces because it exposes the beauty of everyone regardless who they are and their moments. This is a drawing of an elderly man I called Disbelief caught in his moment. His mature face shows the struggles and worries he faced throughout his life.
---
Gillian Gurney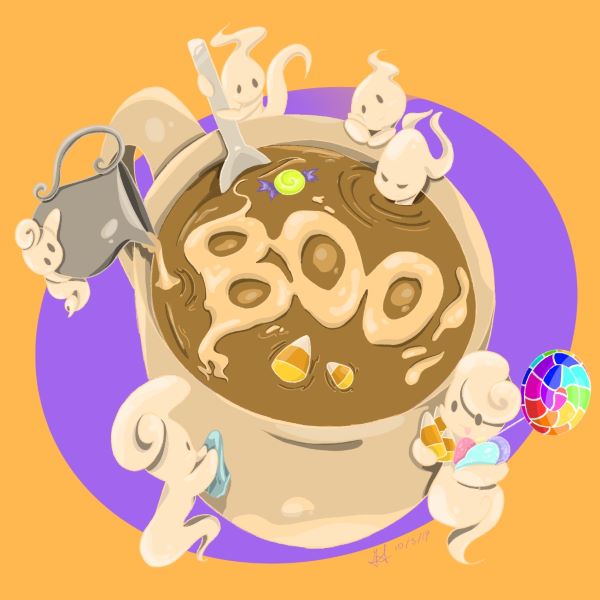 Submitted Statement: My piece was inspired by the daily theme for "Inktober", a daily drawing challenge I was participating in with some friends, for the month of October. Using the program, Procreate, I drew on my ipad to create this piece. I wanted to create a cute scene, based on the theme of "coffee", using plush ghosts to match the coffee froth. I wanted to incorporate Halloween candy and treats and also colors that popped against the muted brown of the coffee, ghosts and mug.
---
Mazie Smallidge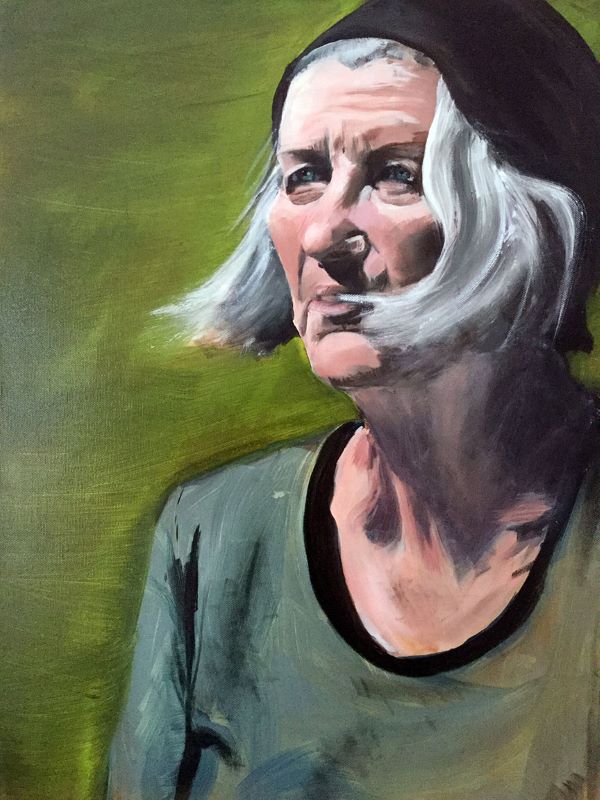 Submitted Statement: I made this oil painting as a part of a series on the women who have been a part of my life. It is of my grandmother, Gigi. She lives on the other side of the country, however she has always been there, encouraging my creativity. I think her way of looking at the beauty in the world has shaped how I see the world profoundly. I did this painting shortly after she was diagnosed with Dementia. In the last couple of years it has been one of the strangest things seeing her mind slip from her. Because I am so far from her (she lives in California and I live in Maine), I only see her once a year if I'm lucky and everytime I go back she is a little worse. I wasn't really actively thinking about this when I painted this, but something about her slow confusion came through onto the canvas. I can't quite place what makes this portrait so intense for me, but I think it captures Gigi through and through. She is in mid-thought, surely about the beauty of the trees, or maybe a story which she has told me a hundred times over.
---
Brandy Snyder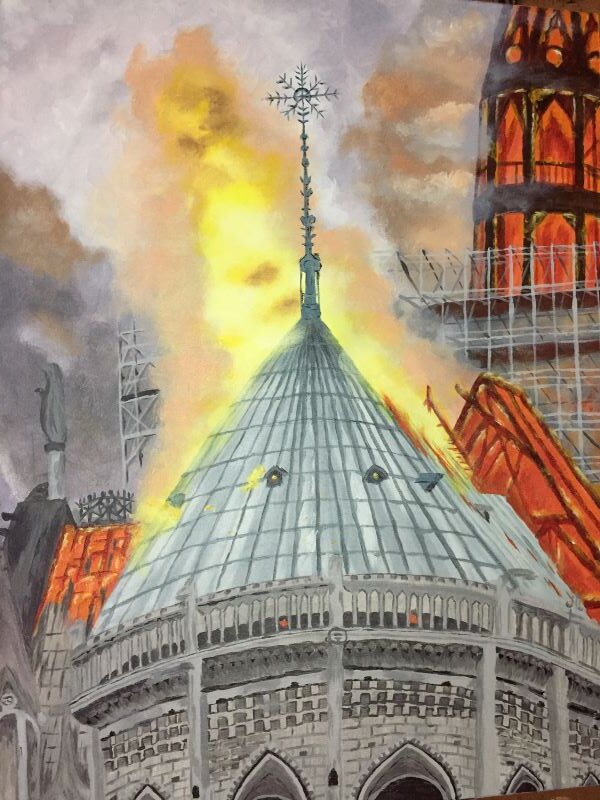 Submitted Statement: I've always wanted to visit Notre Dame in Paris. Unfortunately, it caught fire earlier this year. I had to paint this picture of the fire for all the tears I saw shed at school the day it happened.
---
Fatima Dirie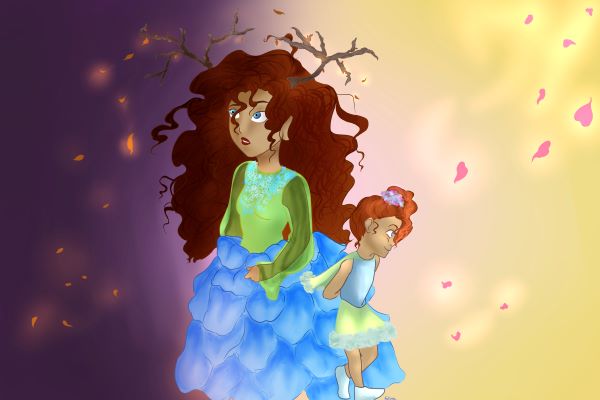 Submitted Statement: This is a drawing I did on my tablet. I did the initial sketches in Procreate, and then used ClipStudio Paint for lining and coloring. The painting is a representation of where I am and where I have been. The older I get, the more it seems like the world is trying to weigh me down. I have learned to look back on my childhood for the right outlook.The piece was inspired by the constant cycle that plants go through. No matter how much outside forces weaken them, there will come a day when they will blossom again. As a child, I only saw the future as something to get exciting about. Now, as a young adult, it's easy to believe that I will be stuck in the same position for a while. Art reflects emotions, and the making of a new piece has become my way of sorting things out in my head. The future can be daunting, but I need to spend less time worrying about what could be, and more time being grateful for what already is.
---
Dulce Diaz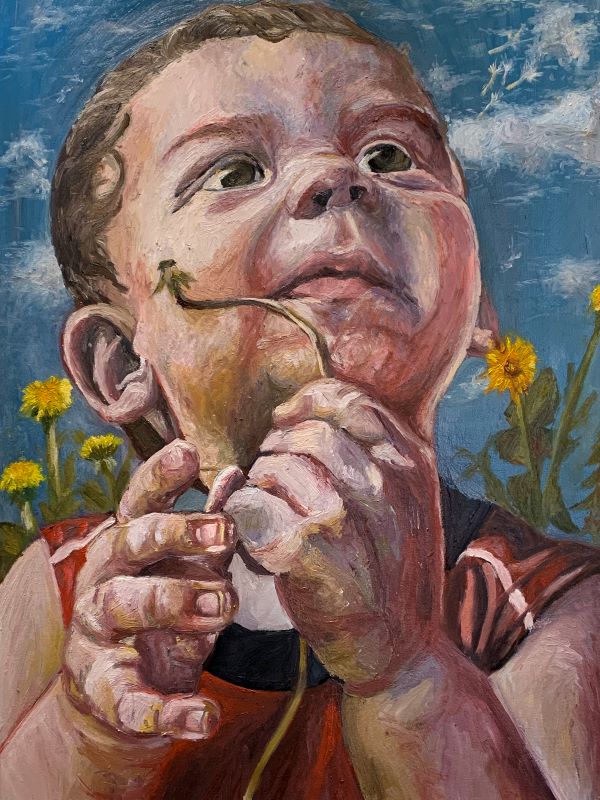 Submitted Statement: This is a painting I did of my nephew holding a dandelion. The medium I used was oil paint. I enjoy creating skin tones with colors that aren't exactly traditional skin shades. I think it helps create a more lively scene that showcases the mood I want to portray better. In this painting I added the blue sky and flowers in the background because I wanted the reader to read it as the beauty of youthfulness and the happiness that accompanies it.