Pinspiration: All-Year Halloween Vibes With Subtle-yet-Spooky Art
#SpookySzn is well underway. If you love Halloween as much as we do, you probably get a little twinge of sadness when November 1st rolls around each year. During our latest Pinterest binge, we stumbled upon a pin by Hunker, a decor-focused blog, which offers a cool decorative solution for folks with year-round Halloween spirit. Naturally, we turned to art with a similar look to help keep spooky vibes around well past October 31st.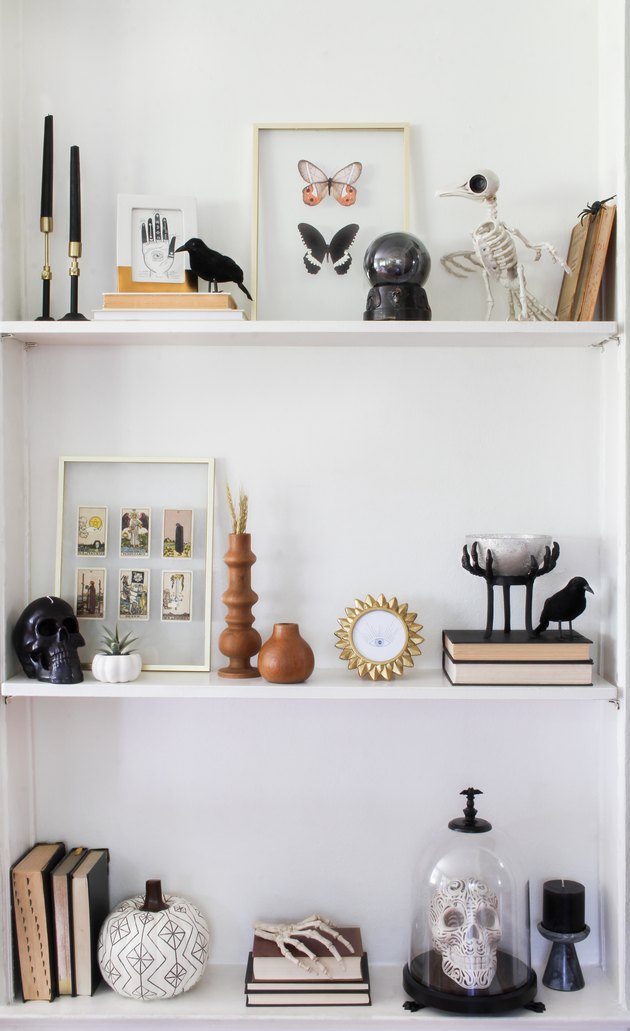 Since people traditionally go over-the-top with ghouls, gauze and gore, Halloween decor has a pretty short lifespan. If you love dark and spooky feels, or simply want a way to decorate without having to take it down in a few weeks, this macabre-yet-chic look is sustainable year-round.
This contemporary shelf expertly combines everyday items with more Halloween-esque knick-knacks and art prints. Skulls, tarot cards, and ravens fit just fine in the realm of Halloween, but they also aren't uncommon in everyday decor. Inspired by the motifs on this shelf, we found art prints to help achieve this look. As an example, imagine the room we styled below without the pumpkins and bats — the print alone has just enough "spookyness" to keep Halloween vibes alive all year. Whether it's October 31st or the 4th of July, your guests won't bat an eye.
iCanvas has a huge variety of spooky prints fit for year-round decor, making it easy to find ones that fit your personality. Check our curation below for art that can keep your Halloween vibe alive season after season.
Didn't find that perfect balance of subtle and spooky? Browse our fantasy, sci-fi, and horror collection or check out other Halloween prints from iCanvas.