Iris Scott: Women Succeeding in Art
Despite the gender gap that remains between men and women in the field of art, it's still important to recognize that the gap is trending in the right direction. More and more female artists are finding success in the art world today and we believe it's important to acknowledge stories of progress. In participation with the annual #5WomenArtists campaign, we want to introduce Iris Scott as one of many female artists you should know.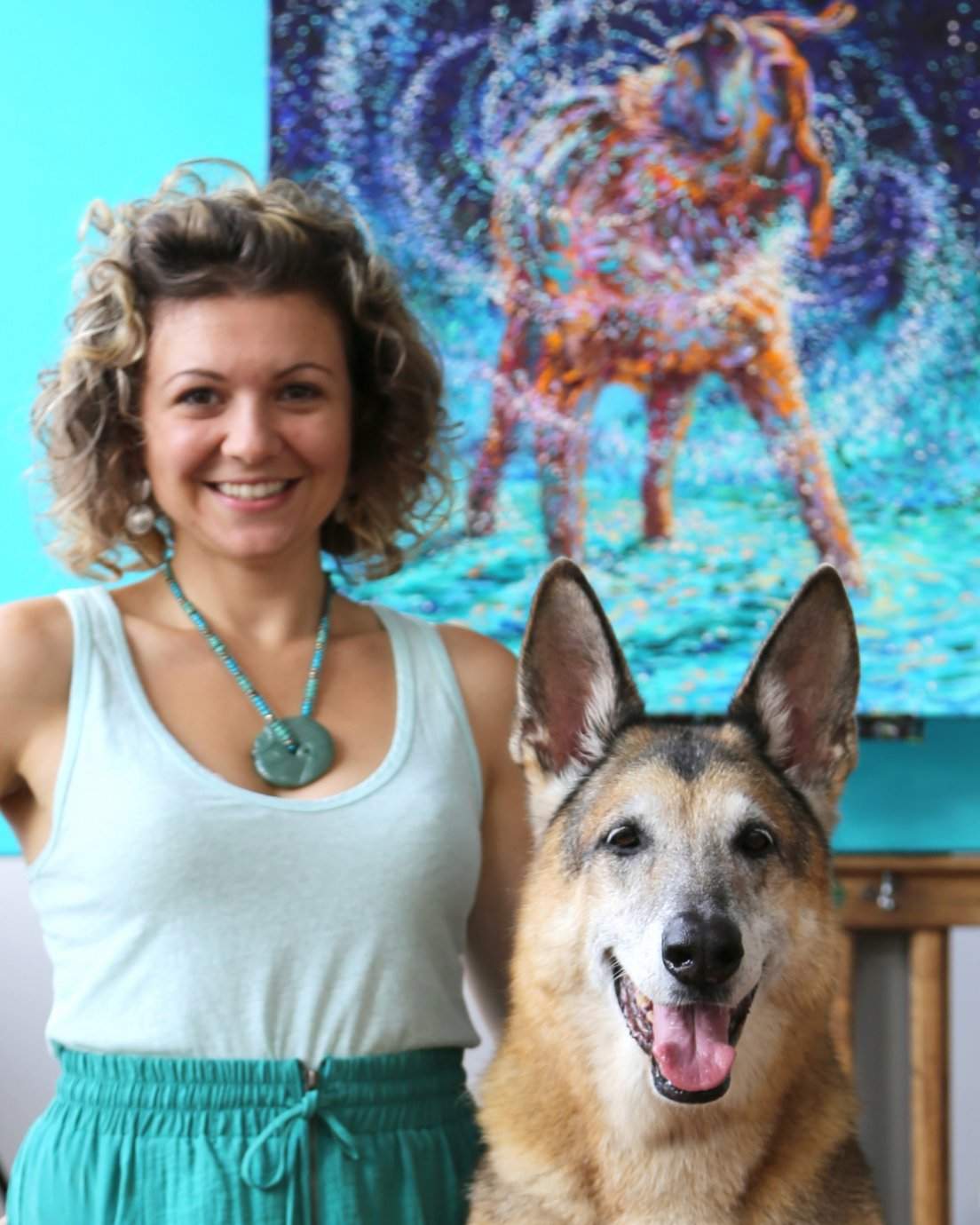 Iris Scott – Fine Art Finger Painter
Iris Scott has experienced tremendous success in the past decade. She has redefined finger-painting as a form of fine art. Her disciplined mastery of this technique inspires awe in anyone that comes across her work. She has even authored a how-to book on finger-painting, encouraging more artists to enter her space.
Big Sales & Little Happy Dances
Just 9 years after selling her first original piece of art in 2009 for only $60, Iris Scott's work has now topped $40,000 for her latest piece!
"Can you believe it?!! It feels like just a few years ago that I would sell originals for $250 and would do a little happy dance each time."
Over time, Iris has increased the sizes of work that she commissions. While the chart below doesn't account for size, her sales growth is still impressive by any artist's measure.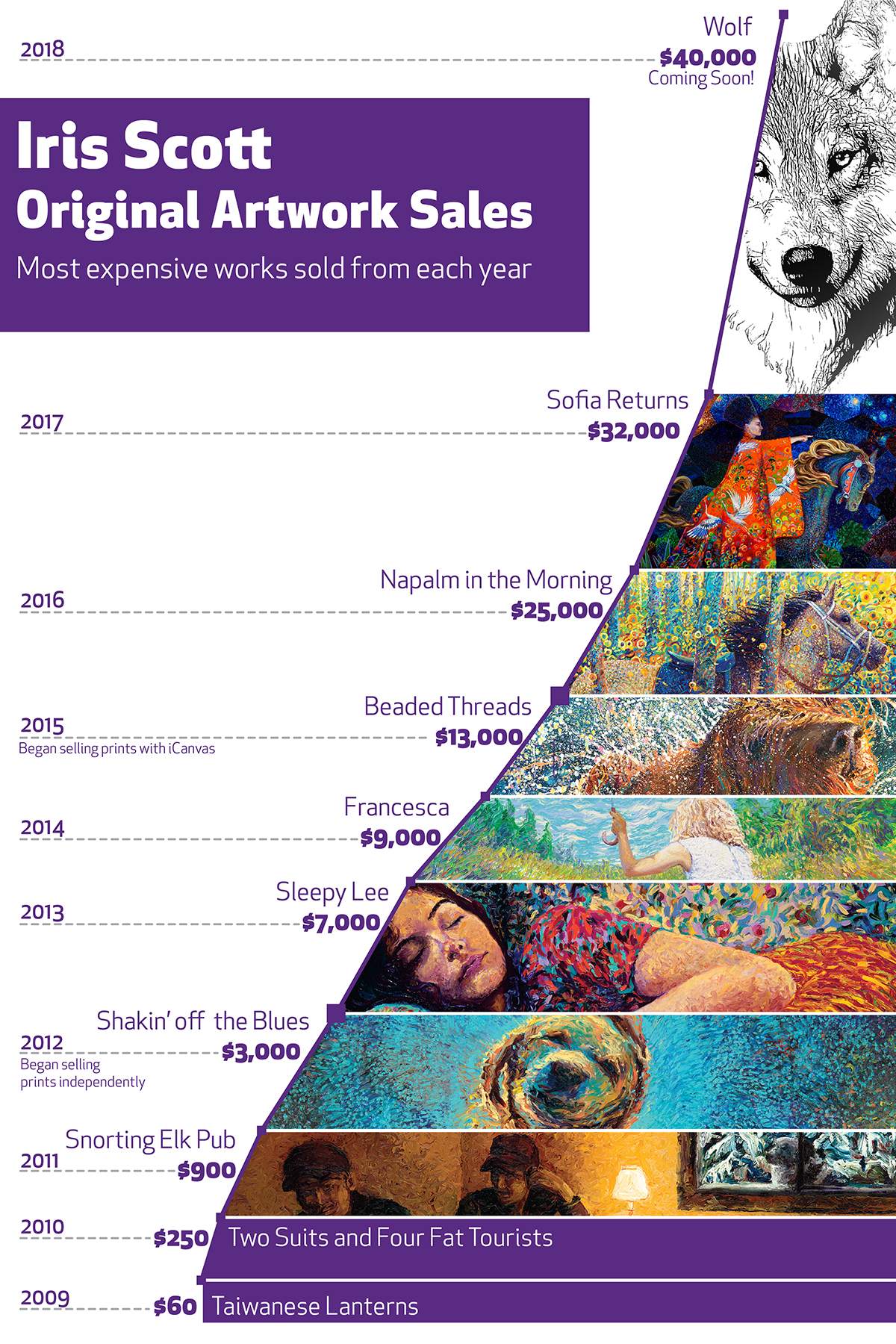 Passionate About Prints
While there are lots of factors contributing to her success, Iris advocates that selling prints is an important one that has directly affected the growth of her originals.
"Gallerists told me it would hurt the sale of my originals if I ever made the 'mistake' of offering affordable prints to the public."
In 2012, Iris worked with her parents to manufacture and sell prints of her work. After 6+ years of experience selling prints, Iris shared why she believes more artists should choose to sell prints of their work:
Owners Of An Original Love Their Piece Even More. "I find that when a collector learns that someone has a print of the original painting they own, they're honored. They feel like they have a piece of history because they have the original. Also, they are delighted that someone else loves the same image that they do."
Great Advertising. "I believe that the prints have become advertisements for the originals. A large-scale print is a far more powerful portrayal of what the original feels like, compared to a jpeg on the internet. All the prints that have been sold have created a lot more awareness and appreciation of my work, which I feel is increasing the number of potential buyers for my originals."
Let the Public Enjoy Your Art. "I think that it's smart to sell prints because it's a loving act. Selling prints allows an artist to embrace her public rather than exclude it and in the long run, I think our society is moving toward a more widespread ideology of oneness than we saw in other eras."
More Access to Art From Women. "Most people can't even name a female master, so when we have more female artists selling prints, it allows for people to have choices that aren't just limited to the same dead, white guys. I think when I listen to the comments of fans, they are excited to have something new that was made by a woman."
We're excited to see female artists like Iris being rewarded for their tremendous talent. One glance at her artwork and you'll understand why. We're lucky to be a small part of her success and celebrate every new year of our partnership together…with a little happy dance.