4 Artists Showcasing Neon
These four artists offer neon art in four different ways. Given their unique life experiences and artistic journeys, we'd expect nothing less! From urban and energetic to magical and mesmerizing, we're taking a look at how each creator showcases these glowing lights.
With such electric energy, visual excitement, and flashy appeal, neon lights have been catching eyes ever since their invention in 1902. Thanks to its bright and attractive appearance, it's no wonder artists began incorporating this luminous light in their creations. While these fluorescent bulbs famously glow on the Las Vegas strip, outside of old-fashioned diners, and within interactive art installations, artists continue to find ways to include this electric look in their work. Some creators take inspiration from these flamboyant city lights, while others showcase neon in more unexpected directions.
From being nestled among photorealistic animals to outlining pop culture portraits, the work from these artists can bring dreamy magic, futuristic excitement, and more types of luminescent vibes. Whether you prefer detailed paintings or illuminated typography, keep scrolling to find a new favorite artist.

1. Octavian Mielu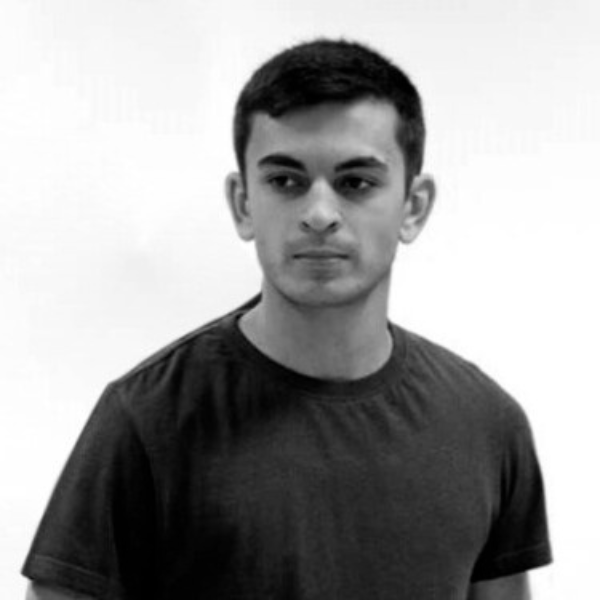 Taking inspiration from urban pop art culture and topographic mappings, Romanian artist Octavian Mielu's digital creations feature popular athletes, legendary musicians, recognizable symbols, and more. Neon elements are strategically placed in his prints to "light up" details specific to each subject's style and personality. By positioning bright glowing outlines on top of darkly colored subjects, he reveals a strong contrast that immediately catches eyes.
From Kobe Bryant's basketball to Rich Uncle Pennybags' money, we think his neon artwork can be a great way to add a pop of energy alongside your favorite pop culture references.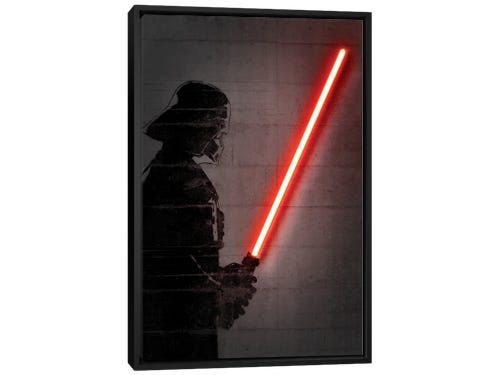 Click here to see all the ways Octavian Mielu showcases neon in his iCanvas artwork.
---
2. Gigi Chen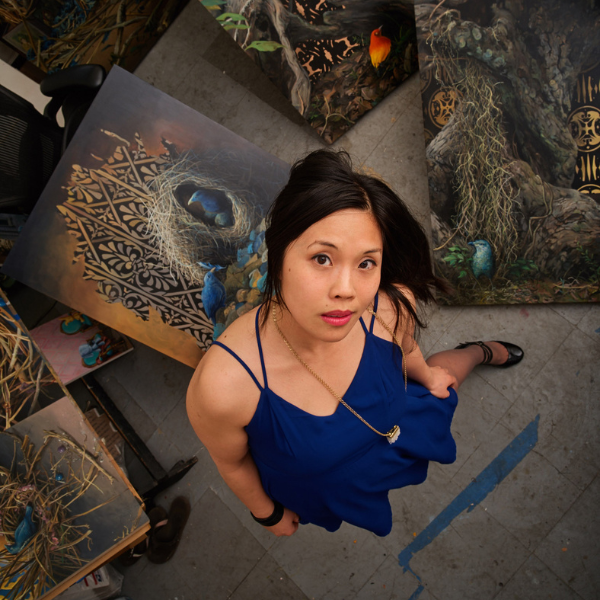 Wanting to touch on family, belonging, safety, and love, Gigi Chen creates photorealistic paintings of birds and other animals in dreamy outdoor scenes. With glowing hearts encased in glass and houses nestled in trees, she adds shining elements to her endearing wildlife creations. Featuring neon in nature brings a subtle dose of surrealism to her art we find enchanting.
From a squirrel's speech bubble to a crane's string lights, her art is full of whimsy. Making her mesmerizing artwork a lovely way to dive into magical worlds with charming critters.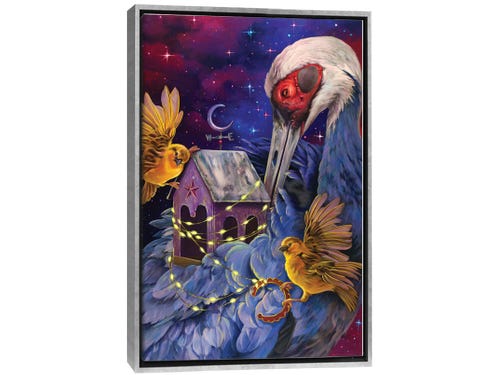 Click here for more neon artwork from Gigi Chen, and to see her other artwork available on iCanvas.
---
3. Gab Fernando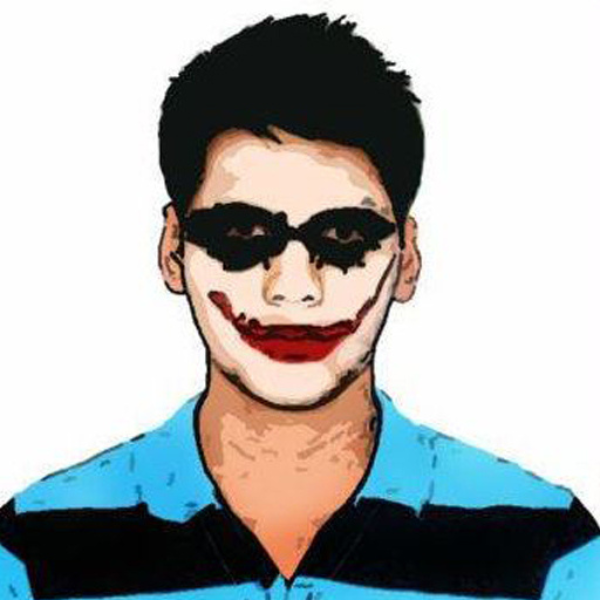 Gab Fernando's digital art features cityscapes, video game elements, famous faces, fantasy worlds, TV and anime characters, and outlined animals. Encapsulating neon lights to the fullest extent, he showcases his subjects' bodies with strong electric glows and lights his city scenes with luminescent details. With action poses and vividly colorful lights, he brings a touch of exhilaration to each striking creation.
From the signs along a Tokyo street to a powerfully lit Vegeta,we think his artwork can pull you into stimulating scenes with futuristic feels. If his lively art looks familiar, you may have seen him collaborate with companies like Threadless and Batok Tattoos.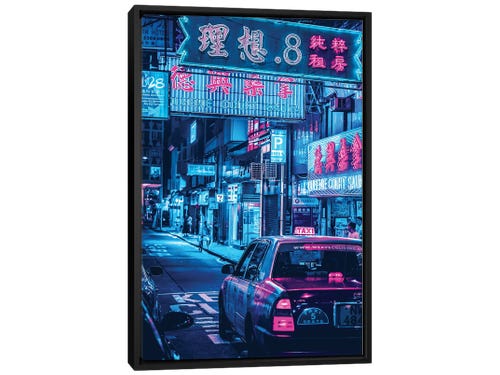 Click here for more neon artwork from Gab Fernando, and to see his other artwork available on iCanvas.
---
4. Ink & Drop
Ink & Drop's eclectic digital art showcases everything from typography to funny animals to re-imagined classic portraits and more. Putting a strong neon focus on motivational words and fun phrases, they juxtapose these sayings against lush botanicals and urban backgrounds. Using a mix of word art styles and bright hues, their prints bring vibrant energy and a dose of retro fun.
From pink outlines of a skull to a chaotic mashup of phrases, each creation shines with personality. If you're looking to bring some inspiration to your space with a buzz of energy, we think their artwork can be a great way to achieve your goals.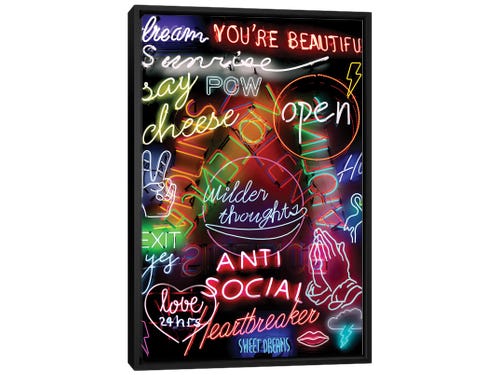 Click here for more neon artwork from Ink & Drop, and to see their other artwork available on iCanvas.
---
Want to see even more art that lights up your eyes? Click here to see all neon art prints on iCanvas.

Limited Edition Art Features
The following prints featured in this blog are available only as Limited Editions. Click-through to shop these prints while they last!
---