2020 iCanvas Art Scholarship – Honorable Entries
Since 2017, iCanvas has offered a $1,000 scholarship to a student of the arts. Each year, we're overwhelmed by the artistic skills submitted by all the entries. This blog showcases some of the art that caught eyes around the office.
Take a look at some of the talent on display by students around the country, and keep your eye on their careers as they pursue their passions. We're excited to see all the art they'll bring into the world!
---
Wendy Ordonez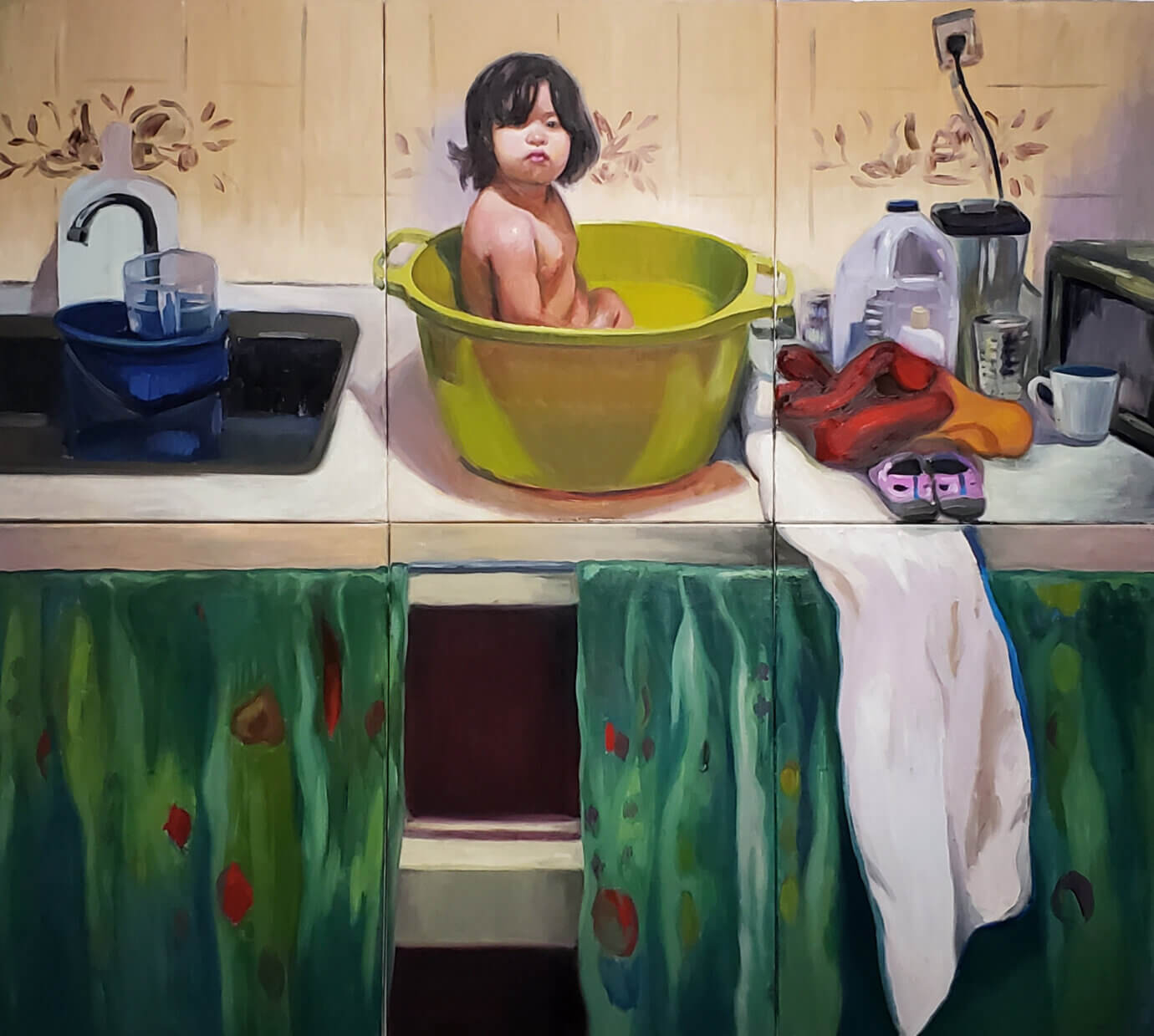 Submitted Statement: This painting was done in oil on 6 pieces of canvas. My inspiration was an image I took of my baby while I was giving her a bath in my native Cali, Colombia. The setting is my mother-in-law's kitchen. I loved her expression and the whole scene reminded me of my own childhood. Simpler times in a more humble environment.
---
Noah Brooks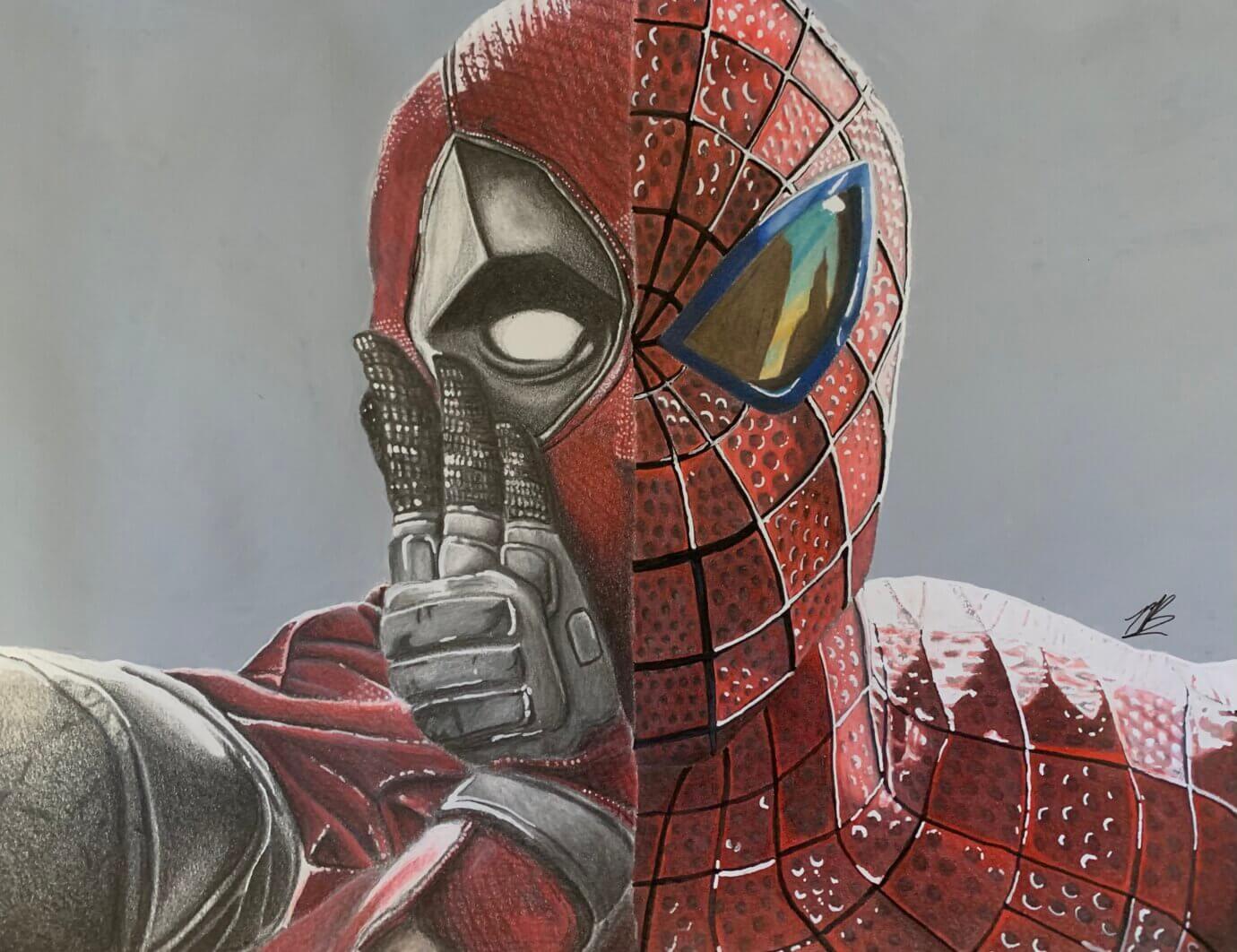 Submitted Statement: This is a color pencil piece of Deadpool and Spider-Man. Two of my favorite superheroes. I took classes throughout middle school and high school but at some point the activity became a chore. But recently I've been getting more and more intrigued and encourage to pursue the hobby once again after seeing amazing pieces of inspiration on my social media feed. People making comic book hero's come to life… with color pencil?! I had to try it! This is my first attempt!
---
Taetyn Panagos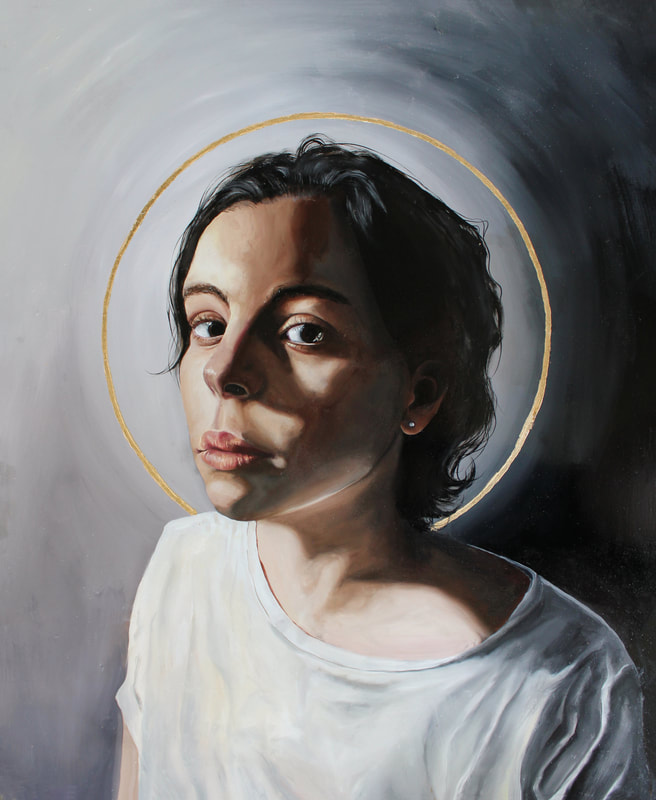 Submitted Statement: This portrait is of a dear friend of mine during her transition from male to female. She was brought up in a strict catholic family who didn't support her decision. This painting is an attempt to portray her femininity while also highlighting her sacrifice and internalized sorrow of what it means to be a woman. She still identifies as a Catholic and I included the halo for this reason, alluding to her "inner holiness" no matter the circumstances. I have studied traditional oil painting methods for three years and thought it was the appropriate medium to convey the message behind this piece as oil is historically used for Catholic art.
---
Anais Stupka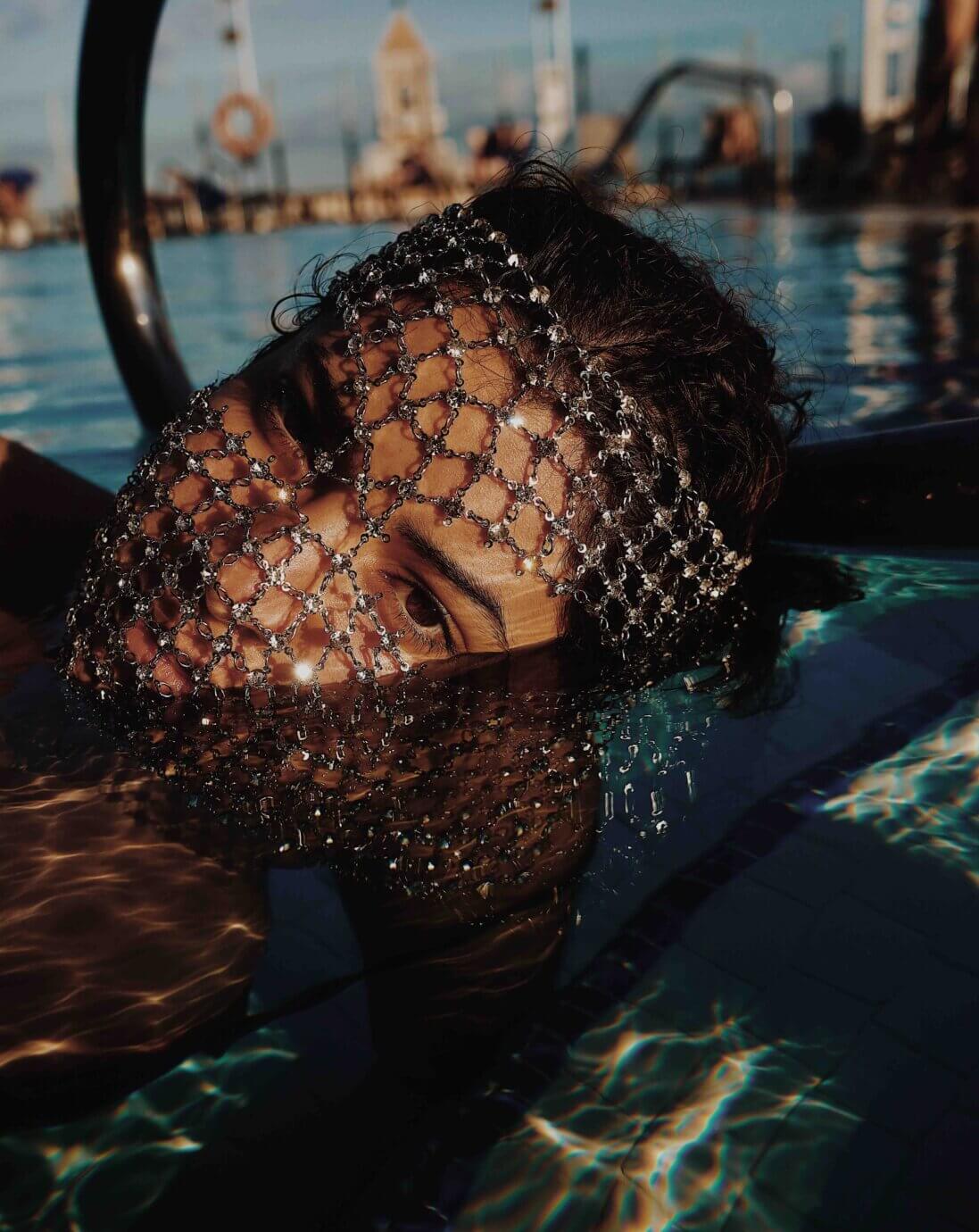 Submitted Statement: Photography has become a limb, an extension to my being, my home. Growing up home always felt like a rainbow between two countries, always in search of the finest pot of gold. However I have come to realize there is no home like the one I have found within myself, there is nothing more golden than the passion I hold for photography, nothing brighter than the way I want to change beauty standards with photography, and nothing more valuable than the roots between my mind and my passion that make my home feel so whole . I want to represent the diversity of beauty of wrinkles with deep lines like carved wood, hair that women wear like a garden on their skin, skin the colour of the earth and the moon, lovers that no matter how much you pluck and pull reconnect with the unibrow, to stretch marks that are a woman's babies first painting. I want to teach young girls that other women's bodies are not our battle grounds. I want to create a world where diversity becomes boring.
---
Jordan Willert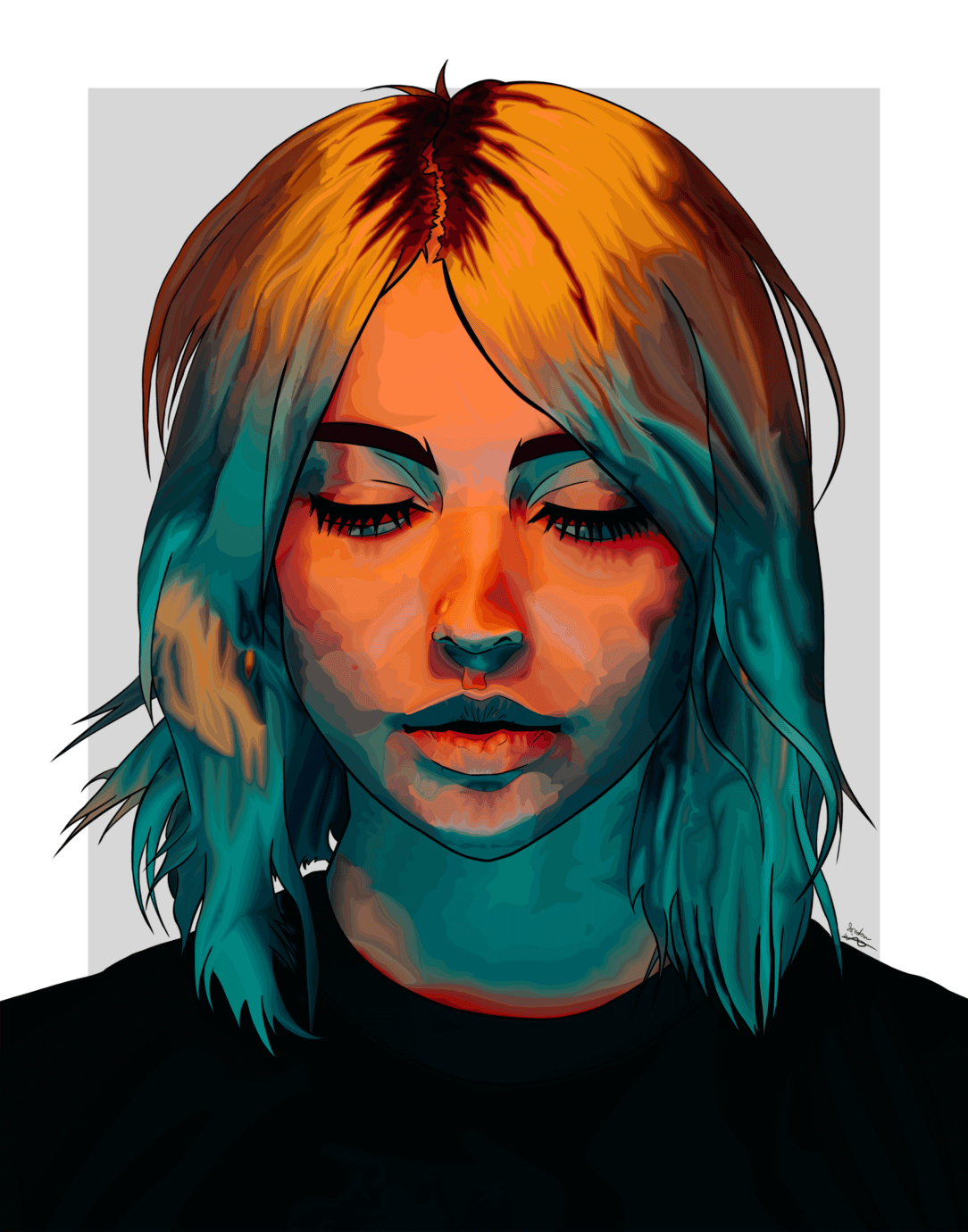 Submitted Statement: This was a personal work that I mostly started work on to practice digital painting. When deciding what I wanted to draw/paint, I was browsing through some photography online, and found a few photos with some really interesting lighting. These photos inspired this piece.
---
Matthew Liebler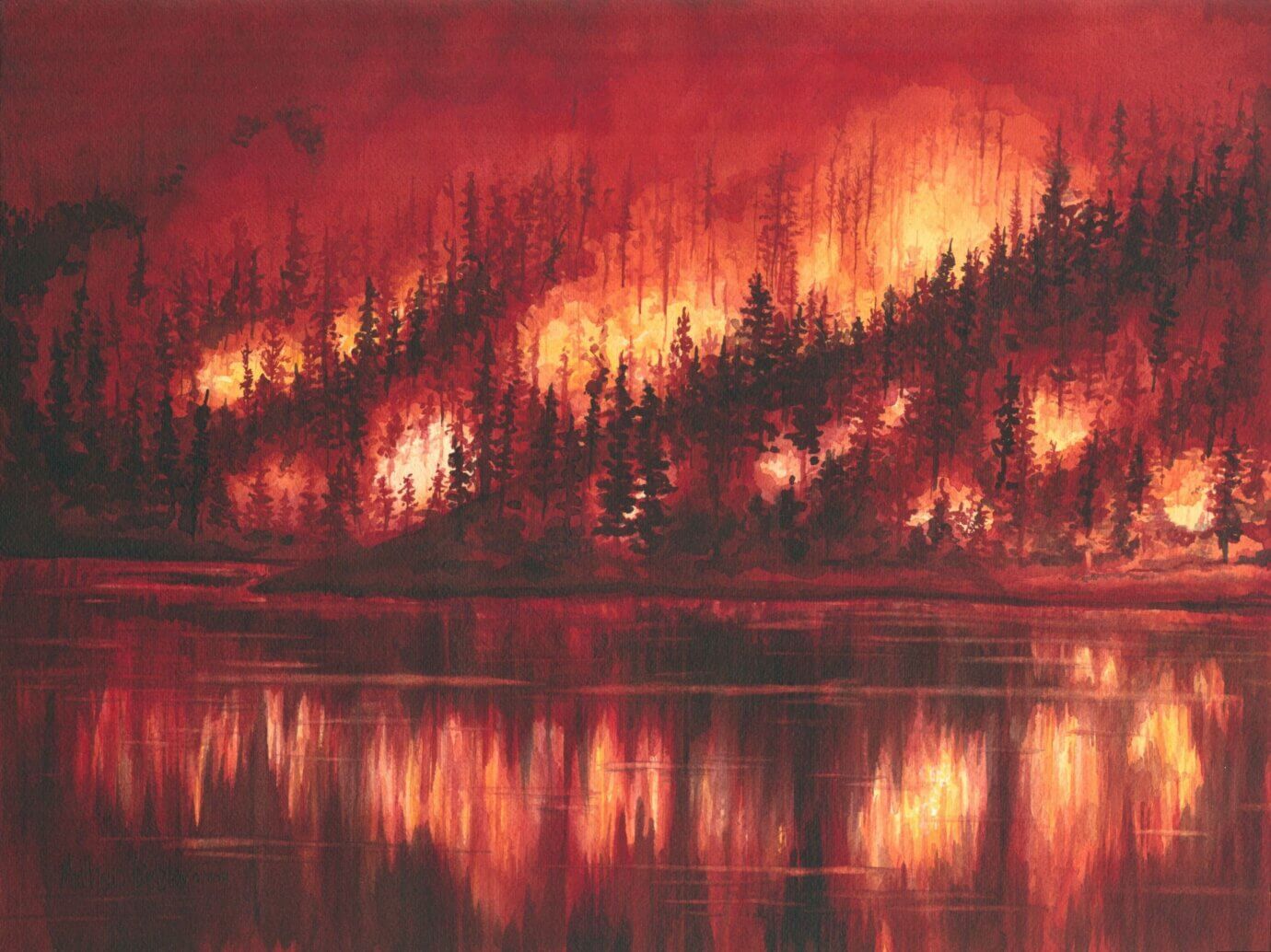 Submitted Statement: This artwork is titled Forest Fire, and is my favorite painting to date. It is done with watercolor on Arches cold press paper. The beauty of this work is the richness of the colors. Even through the pain and tragedy of a runaway forest fire, there is a beauty in the rage and a hope for new life after the heat dies down. It is a visual representation of life, and how there can be beauty amidst pain and suffering.
---
Kristin Xu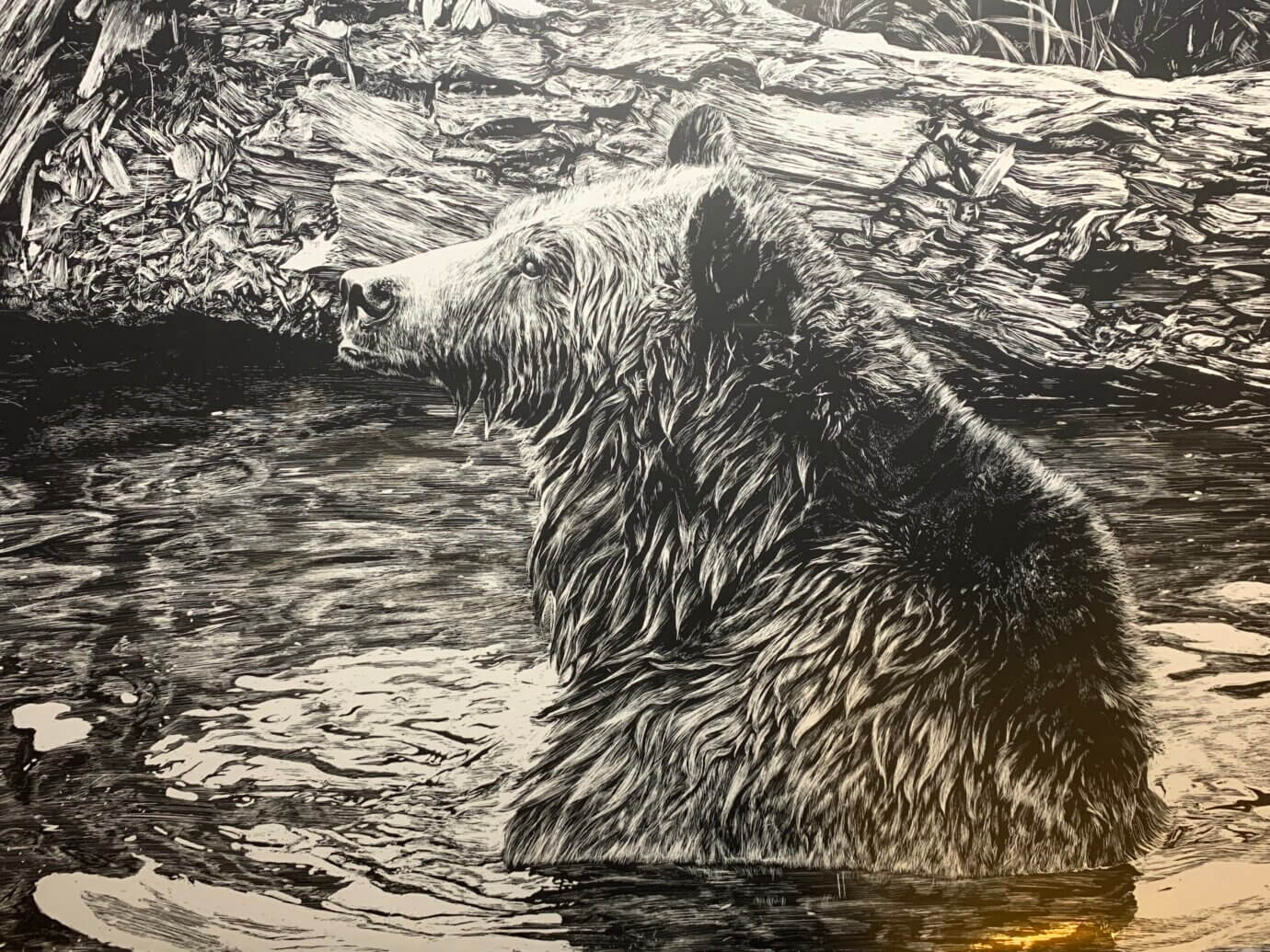 Submitted Statement: For this piece, I wanted to take on something with lots of texture and detail in order to challenge myself and push my technical limits. I settled on an incredibly detailed photograph of a brown bear that I took in Canada as my reference, and to make things even harder, I chose scratchboard as my medium, forcing me to think carefully about the way I make each mark because there is no way of covering or erasing mistakes. Paying close attention to every strand of fur and ripple in the water, I made a variety of marks with a scratchboard knife to capture every element present in the image. From demonstrating the weight of the fur wet from water in the foreground to the worn nature of the log in the background, my mark-making decisions had to be precise and meaningful. This was one of the most intense pieces I've worked on so far. It helped define the concept of dimension for me, and I hope to apply what I've learned from this project to my future artworks.
---
Elle James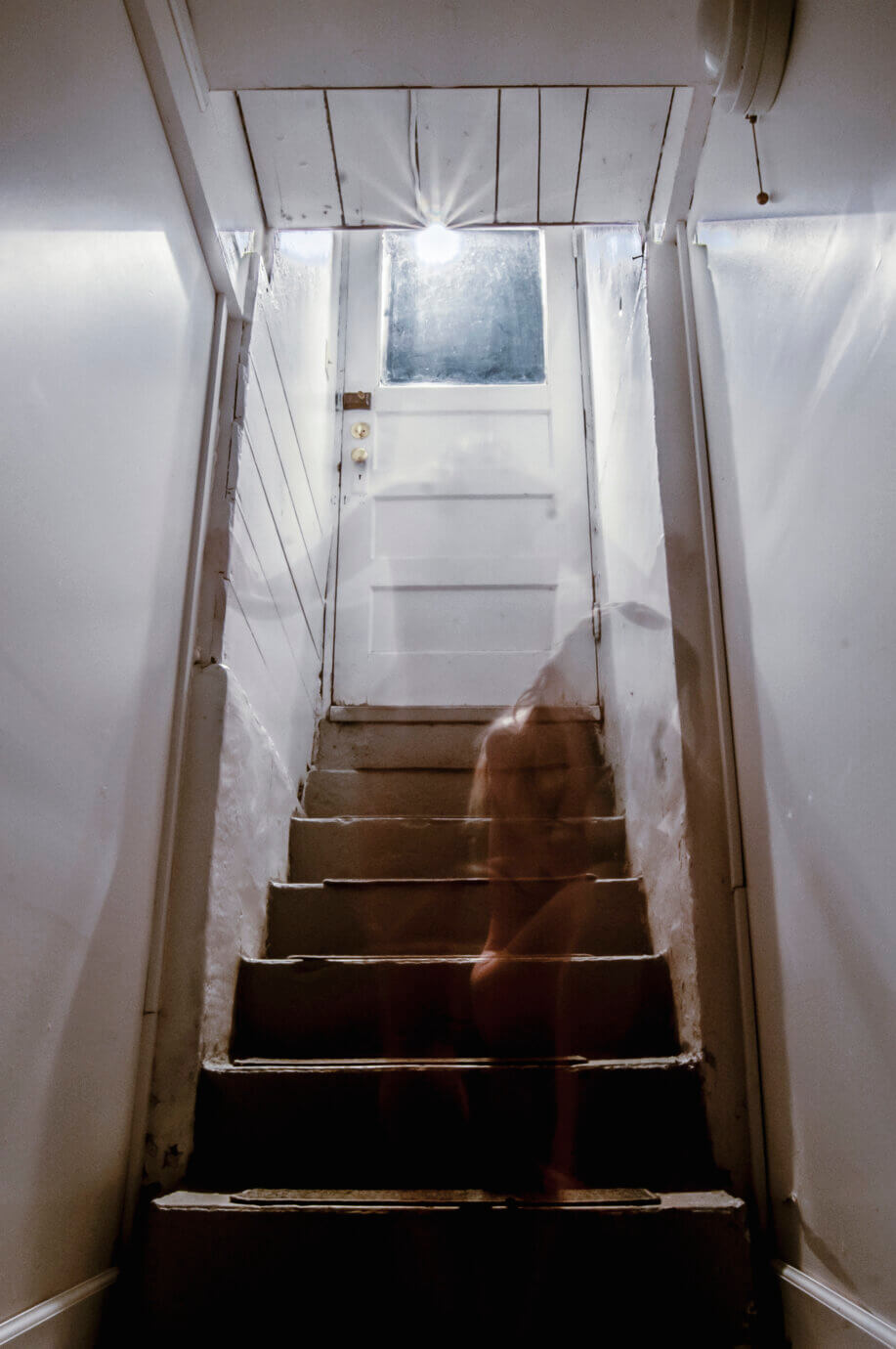 Submitted Statement: In this photograph I set to make a self-portrait that shows what I see in all "selfies". A few haunting ghosts that lives somewhere inside the artist. Normalized with the advent of camera phones, I find the most eerie photographs to be the "selfies". When a person is looking at their own image the eyes are compellingly different. It is an image of a person looking into their own soul and masking the image based on their ego. This has always haunted me, never having the confidence to confront my own. This year while the world responded to loneliness, I found myself eagerly embracing it. I felt comfort where others experienced anxiety. The tides had changed, and, in this comfort, I was able to find confidence! I began to confront my ego, finding a lot of love for her. Really, there are no mystical apparitions haunting any of us. Only our past, present, and future ego that is constantly needing our attention. I may not have to confidence YET to take a photo of my own eyes, but naked in my basement apartment, I created a photo of myself I am proud to share. 30/sec, f/16, ISO 320
---
Natalia Aguilera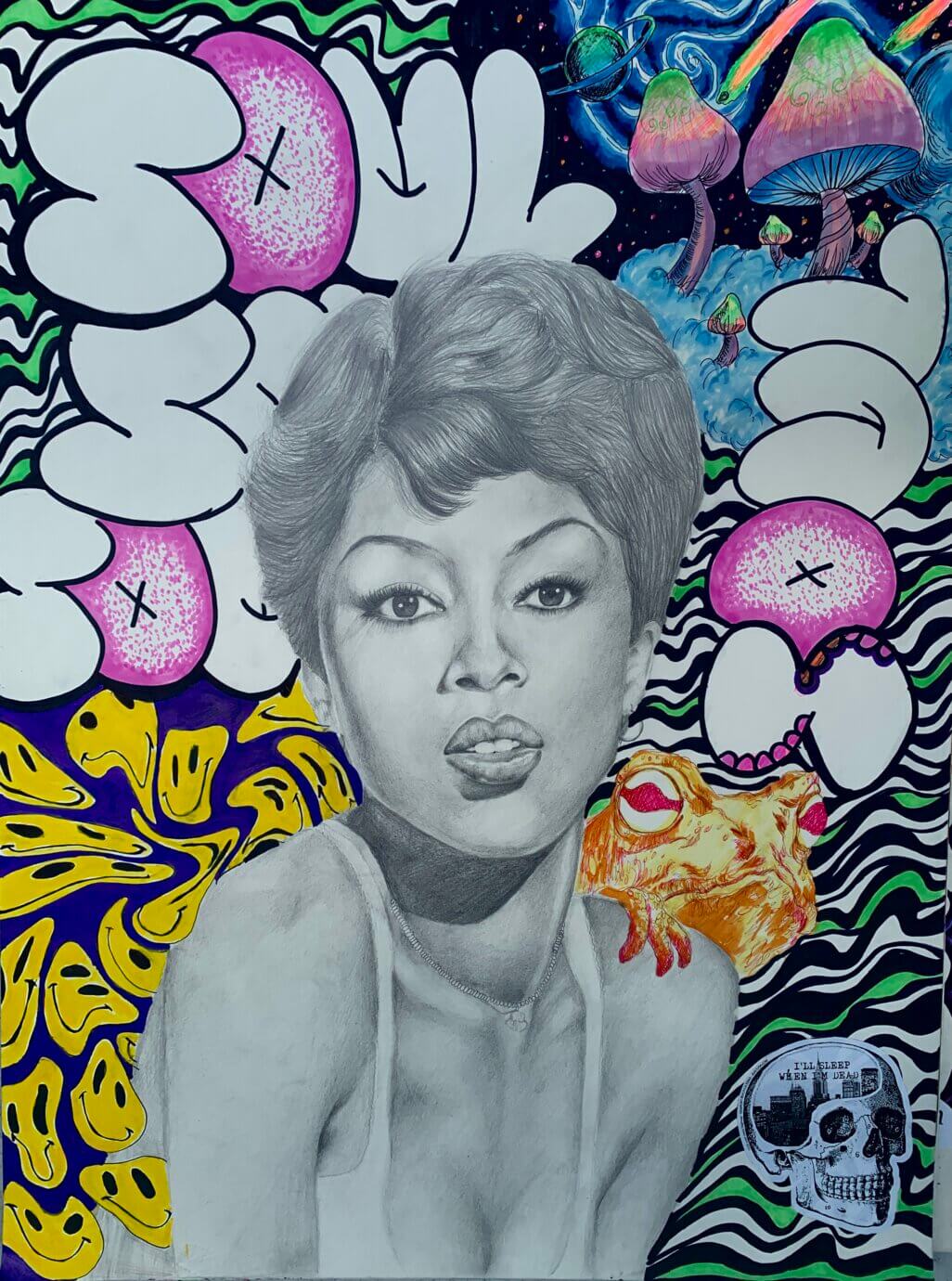 Submitted Statement: In my piece of art it is meant to emphasize the beauty icon Lola Falana, from the 1950's-1960's with psychedelic, street art juxtaposed behind it. Utilizing various mediums & techniques to express the color and aesthetic of 21st century modern art contrasting from the black & white look used decades ago where there were no color in films or pictures.
---
Emily Hendricks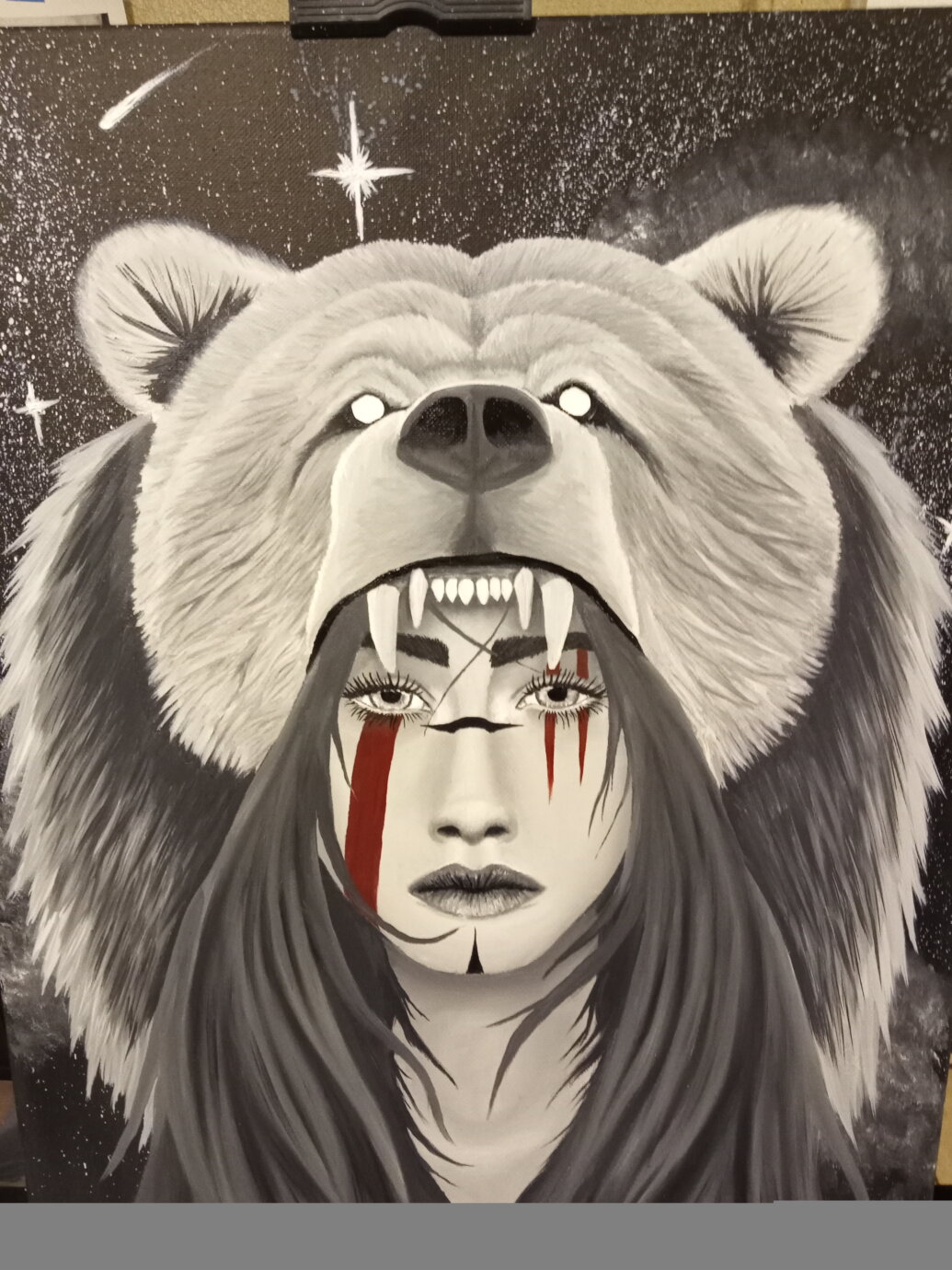 Submitted Statement: This piece "Strength of the Bear" was created late 2019. Inspired by living in the harsh mountains of southern New Mexico, this what re-inspired me to take my passion more seriously and to reconsider my career choice to follow my passion of art and design.
---
Chong Lee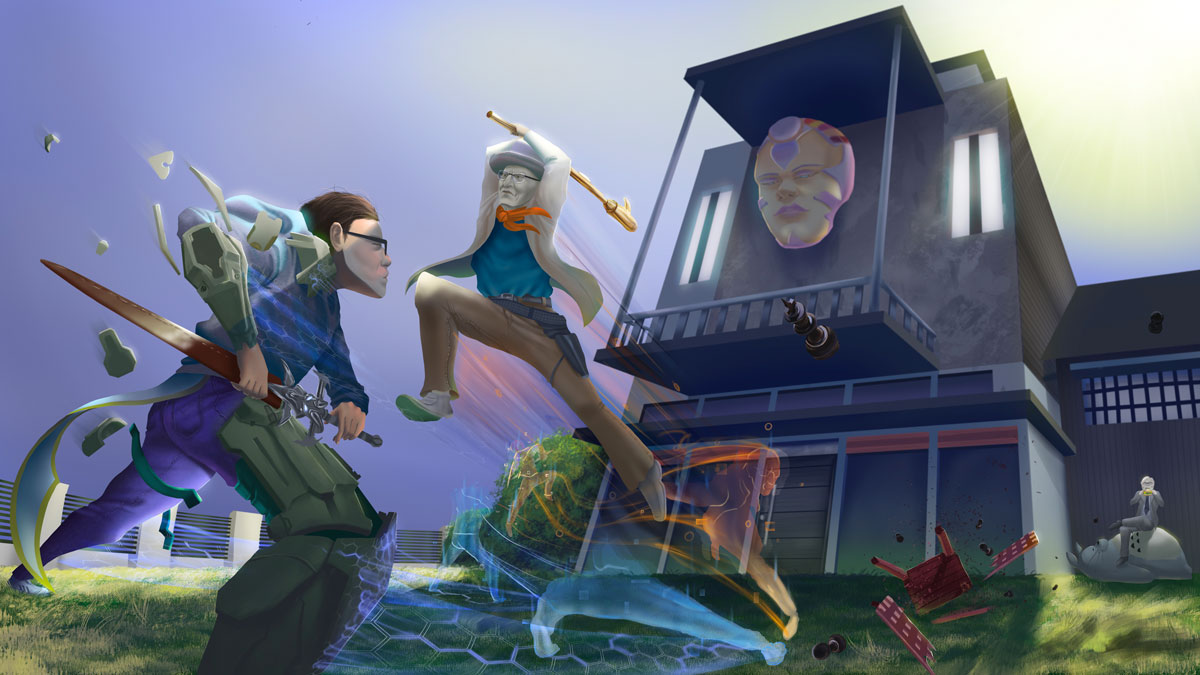 Submitted Statement: This is a digital piece that was inspired by several artists, Ruan Jia, Moebius, and Hayao Miyazaki. It depicts a fight scene of Ruan Jia and Moebius at the house of Moebius. At least what I imagine Moebius' house looks like. I chose these artists specifically because they have impacted my growth in art so much. In a way this is a tribute to each of them. This is one of, if not my favorite piece I've done this year. I learned so much while working not this, from techniques to rendering and perspective. This piece pushed my abilities and made me realize what I need to work on.
---
Piper Bangs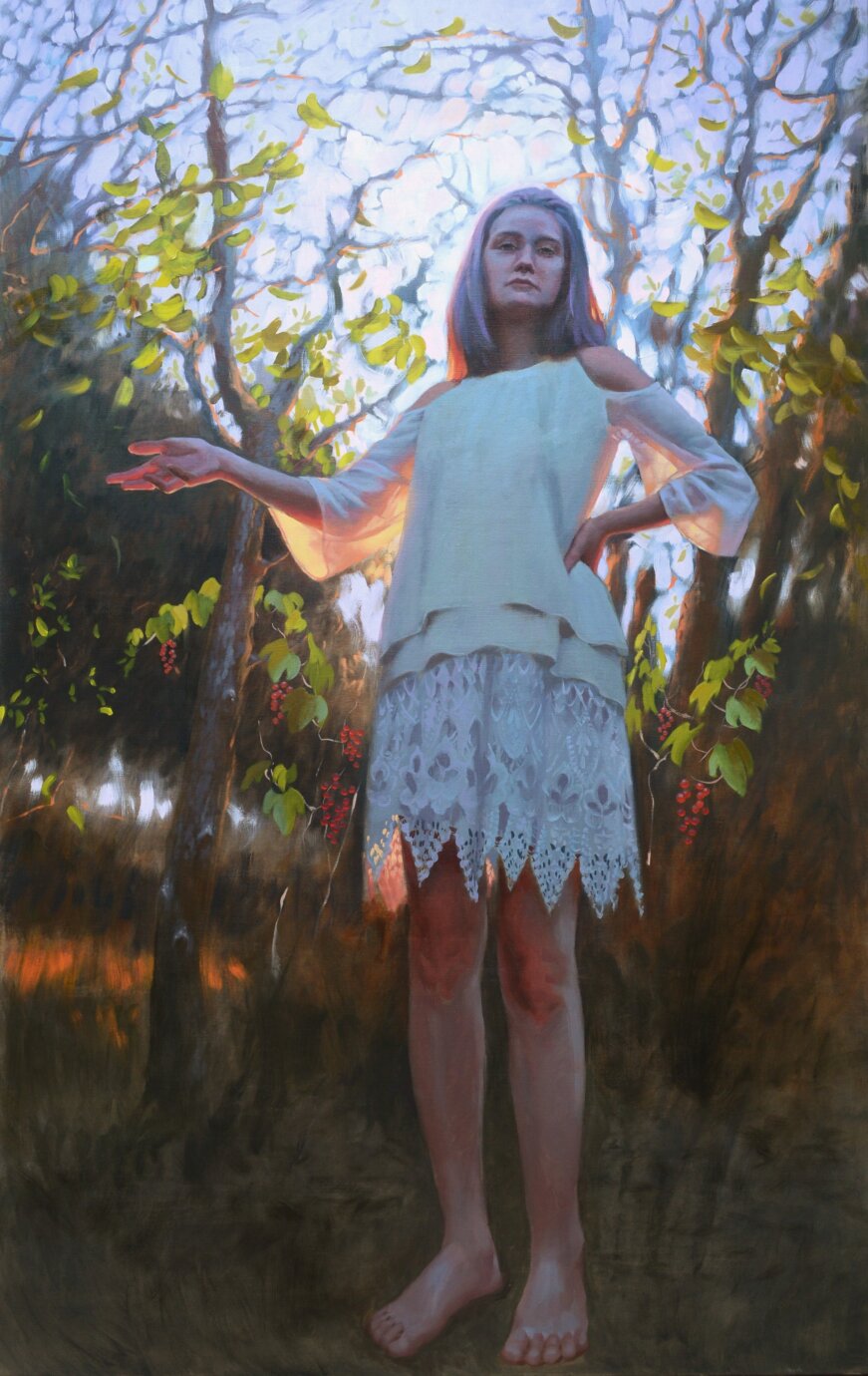 Submitted Statement: This artwork, titled "Evelyn," is a portrait of my strong-willed sister. She is a force to be reckoned with, and in this portrait, I wanted to show her simultaneous strength and femininity. The medium of the piece is oil on canvas, and it is 60 x 38 inches. I created it in 2020.
---
Helena Baka Submitted Statement: This piece is called "Shpërndani Njerëzit", which translates to "Disperse the People" in Albanian. I made it to tribute my immigrant parents who came to the United States in the late 90s during the fall of the communist regime and right before the violent Albanian civil war. This piece speaks to the diaspora of Albanians around the world, and the ones who struggled to leave a country that was nearly impossible to leave at the time, losing their lives, being separated from their loved ones, and being dispersed across Europe and the US. Consequently, this separation from my parent's home country has led to me being incredibly westernized and distanced from my culture, experiencing my own sense of diaspora of not understanding the cultural background I came from and what exactly Albania means to me as someone who is a first-generation Albanian-American woman who grew up in the west. This painting overall illustrates the awful, life vs death consequences Albanian citizens had to face because the Albanian government failed them. I aim to educate people on Albania's history with this work of art since not much is known about the small Balkan country where my parents are from.
---
Kayla VanProoyen

Submitted Statement: When I first had the idea for this piece, I was inspired by divine and ethereal aesthetics. To make those aspects evident in my piece, I played with perspective and lighting for the being descending from the sky. I also chose to use digital media for this piece, so I could work with a slim canvas that brings the viewer's eyes up and down.
---
Rafaela Carvalho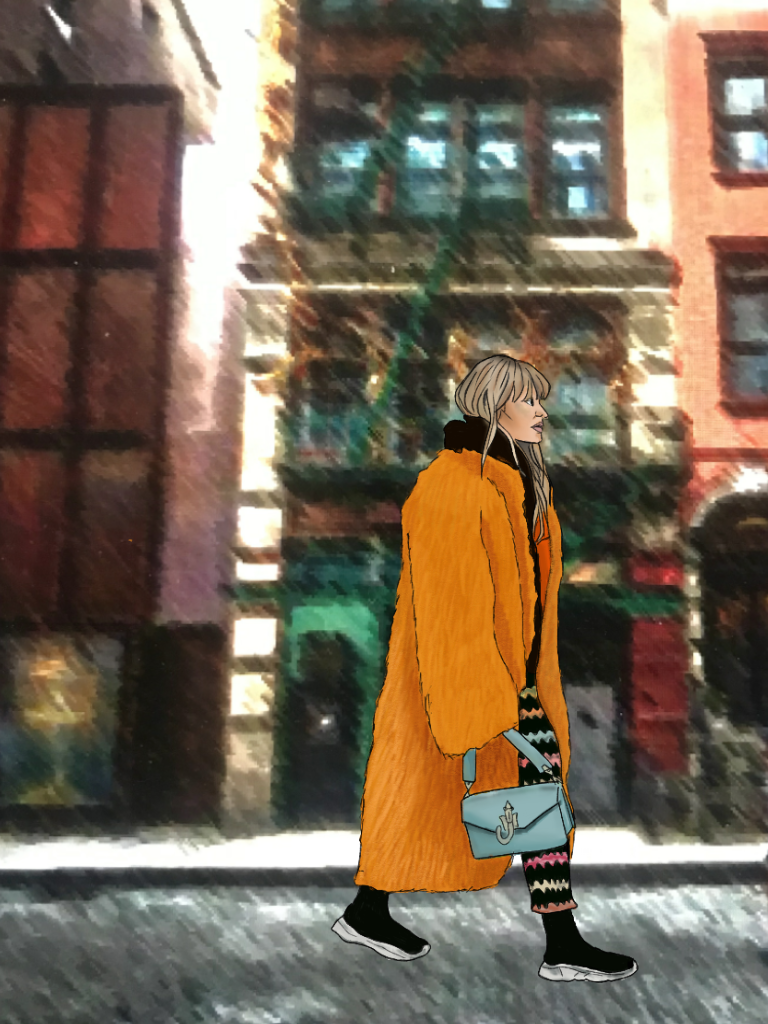 Submitted Statement: My work of art called "One Day in NY " was inspired by the daily life of big cities like New York city. It depicts a woman dressed according to fashion trends going to work in the famous New York during the winter. The city of New York is known for being one of the fashion capitals making the city a great show of fashion trends. This work of art was produced on a digital platform relating to the modernity of large cities.
---
Andrea Loubert

Submitted Statement: The image I have chosen to submit is a rendering from my first architectural studio in Boston. Often, when people think of architectural renderings, they think of photorealistic, perfectly crafted depictions of the building in question. I struggle to see why this type of rendering is so popular, as I feel it lacks emotion. In reality, the building is not built yet, and thus cannot be portrayed in a photorealistic way! That is why I chose to create this image, showcasing the main focal point of my project in a colorful and exciting way. The image was created in photoshop. First, by creating a 3D model to export views. Then, by individually mapping each texture into the image. I then used by tablet to draw in the mounds of grass and different hues in a collage type way. The sky is a watercolor wash of blue and is used to frame the view of the skyline. The image was finished off by adding in people and color-grading. I feel this type of rendering is more memorable and artistic opposed to the traditional form of rendering, and I hope to continue this form of artistry far into my architectural career.
---
Amber Levis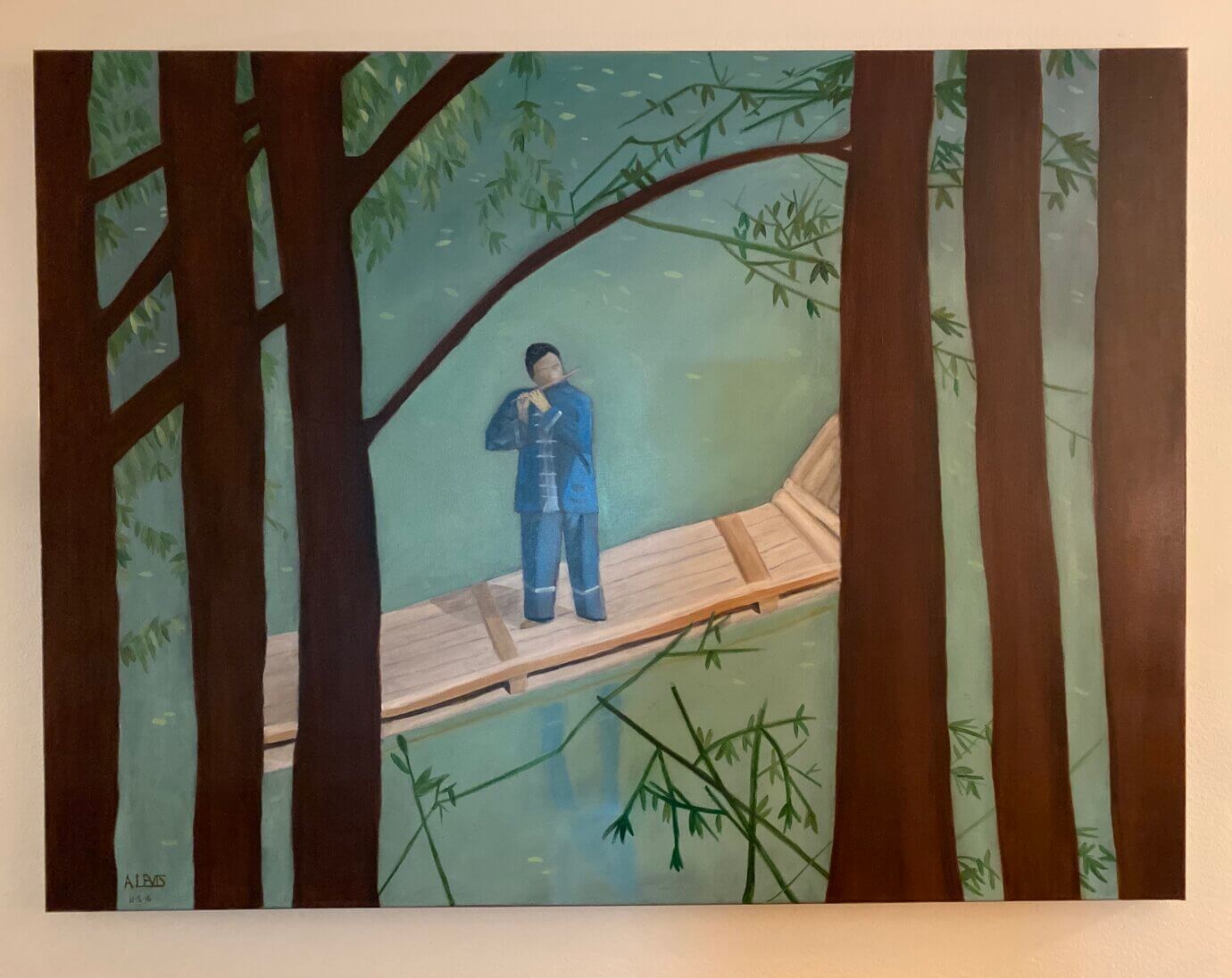 Submitted Statement: This is based off a photo I took when I visited China for the first time. During that summer, I was studying Mandarin so that I could communicate more easily with my mom's side of the family. As such, I spent a lot of time reflecting on what my Chinese identity meant to me and how that differed from my Chinese-American identity. My family was doing some sight-seeing in Guilin and I passed a man in traditional Qing dynasty dress playing a reed on a bamboo raft. I was transported by both the tranquility of the scenery around him and the music. In this meditative state, I reflected on the juxtaposition of the beauty of the displayed traditionalism and the exploitative use of traditional practices for tourism in rural Chinese villages to survive in a modernized (and Westernized) world.
---
Mary Davis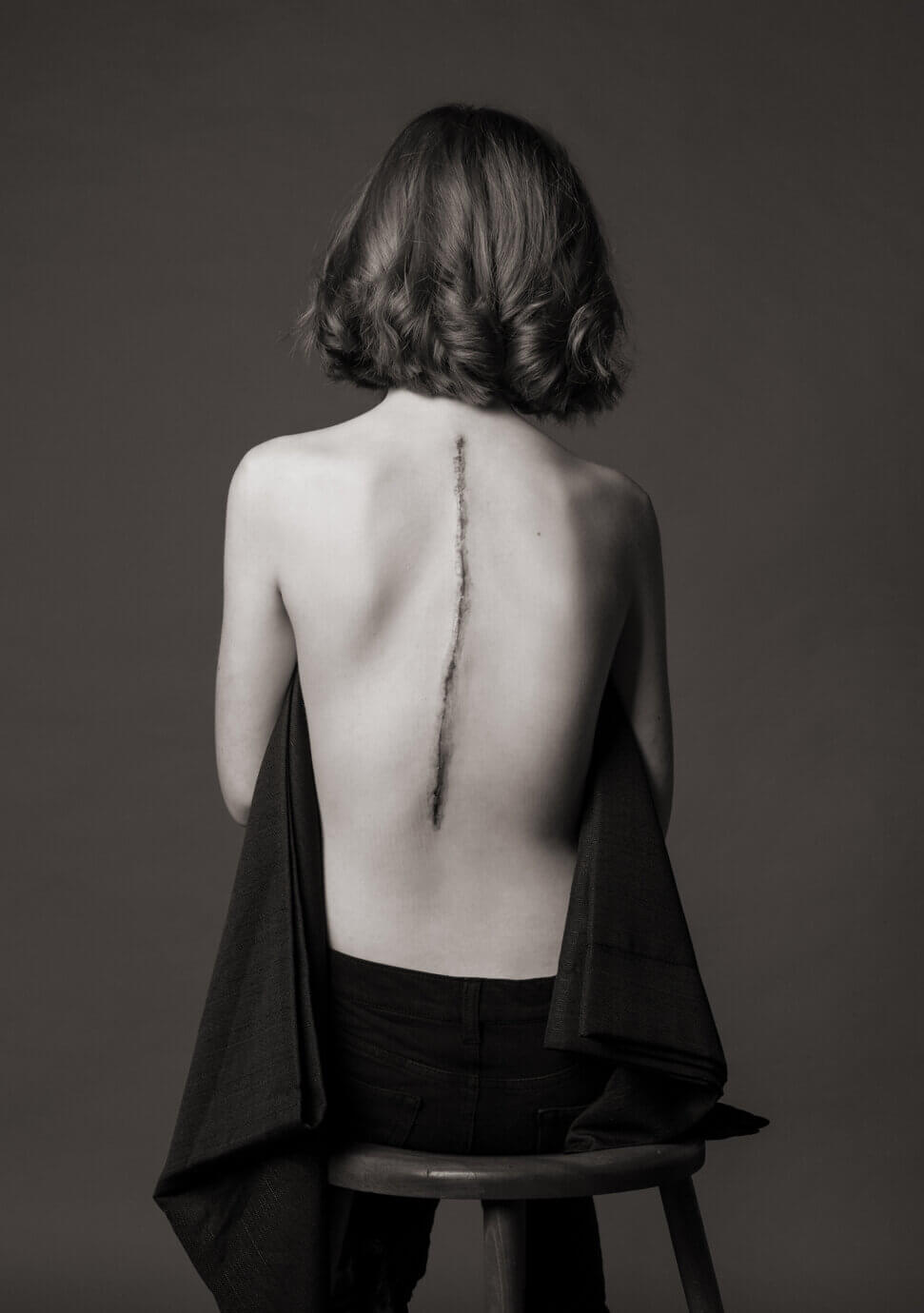 Submitted Statement: For my graduate thesis, I chose to focus on the subject of physical and mental scars. I was inspired by my own husband's scars. He was engulfed by flames, from a jobsite explosion. 20% of his body suffered third degree burns. His scars are a testament. A testament when life tried to break him but failed. His scars have inspired me to learn more about others, and the story behind each of their scars. Photography is storytelling through visual communication. I know that through the medium of photography I can capture each individual's scar, documenting the markings that formed new individual characteristics. We all have scars, and scars tell stories.
---
Bria Peters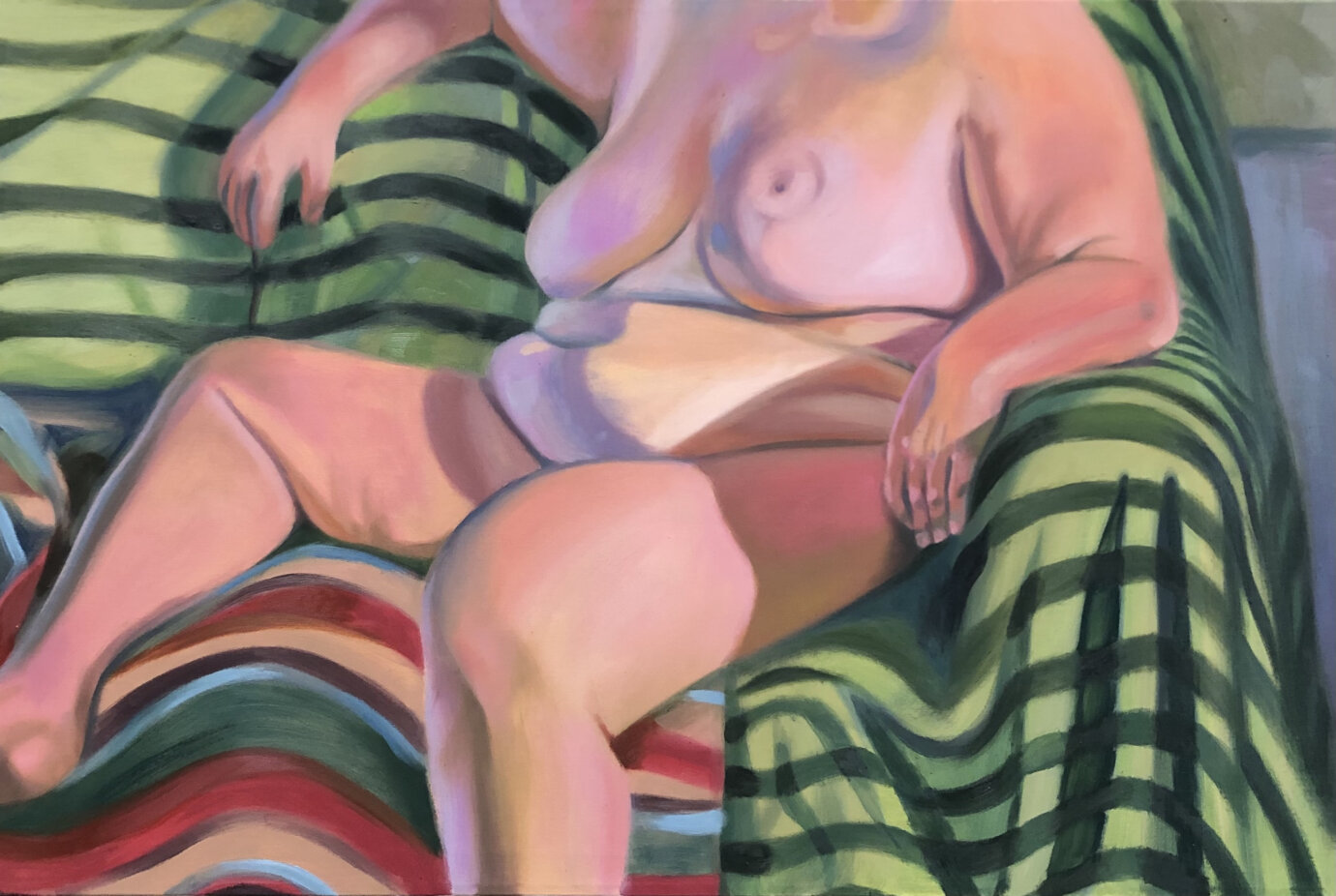 Submitted Statement: Being comfortable in your own skin is extremely important when it comes to getting the most out of life – especially when it comes to art. This figure painting I created using oils embodies this notion. Though I was not comfortable using oil paints, the application of my own style to this work is what made the process enjoyable and worthwhile. For this way of thinking, I thank my junior high school art teacher, Mrs. Trammell. She encouraged me to stay true to myself as I made art, and that it is ok to be challenged by working in different mediums.
---
Daniela Steinberg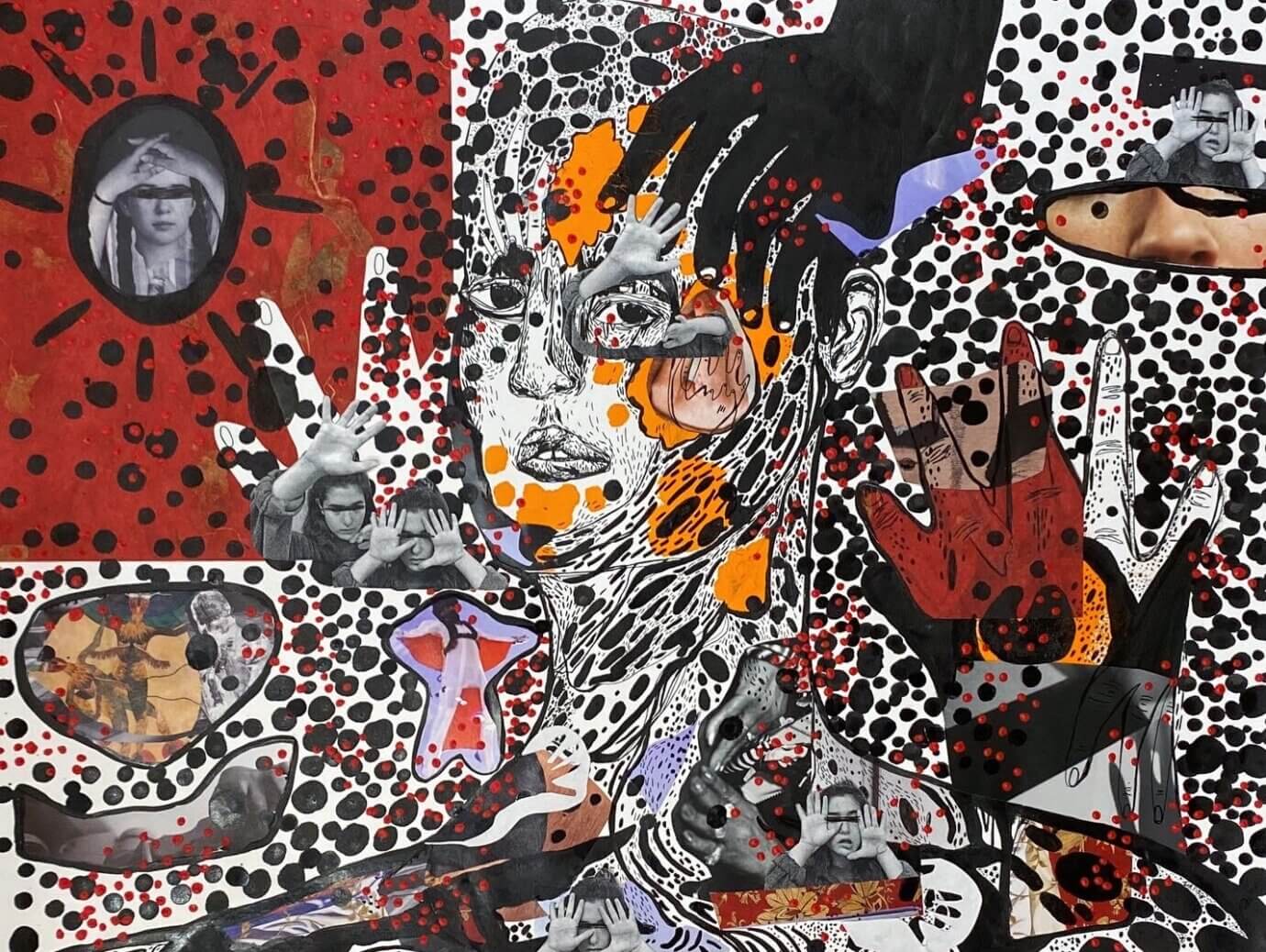 Submitted Statement: Creating art this year meant spending a lot of time online and on social media, for better or for worse. In much of the work that I've created this year, in this piece especially, I have been exploring the ways that technology and identity converge; particularly how this relationship has changed and intersected during quarantine. In this piece I am dealing with ideas surrounding the need to share aspects of my life online, yet the want to simultaneously disappear from the internet. Social media and the internet can be a really lovely way to explore, learn, and be inspired from. But it is scary how far social media and the "value" it holds can extend into a collective societal psyche. Where do the online and real self converge and diverge? Does seeing intrinsically involve valuing? This piece explores that relationship of not knowing where the line between my virtual and "real" self exists. How can I seperate my self-worth and feelings of confidence from the numbers and statistics of social media? In this piece I seek to answer these questions, but also to understand how and why they came about in the first place.
---
Sabina Awan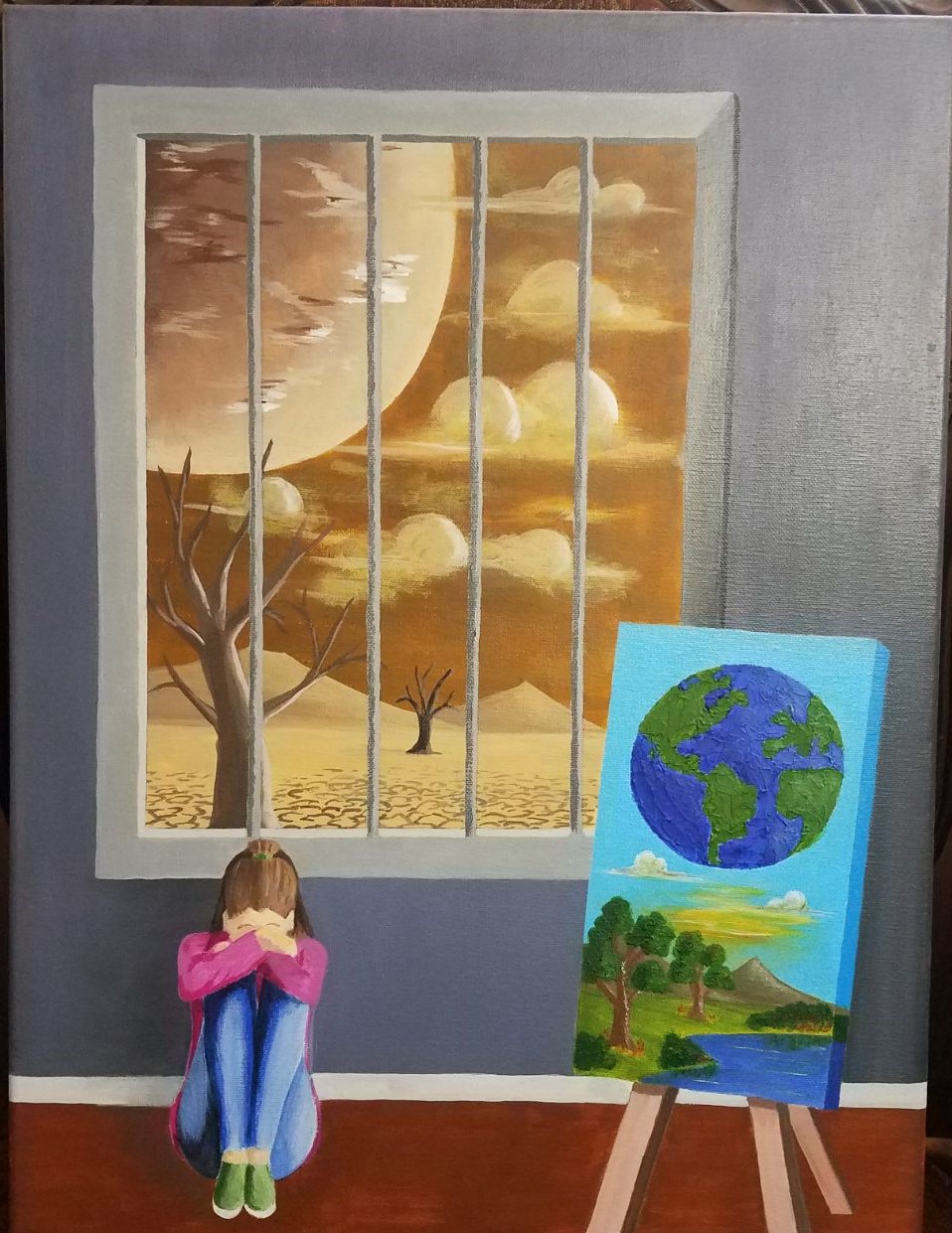 Submitted Statement: This painting was made using acrylic paint. The story I tell people is that what is shown outside the window is what the girl is currently living in. She does not like it at all. So she decides to paint her own perfect world that she would like to see or dreams off. She wants to see the dry bare land have some life to it and some color. Outside the window its showing the bare land and mars kind of planet. In the painting the girl drew, it shows the earth and the land filled with greenery and water.
---
Jessica Leone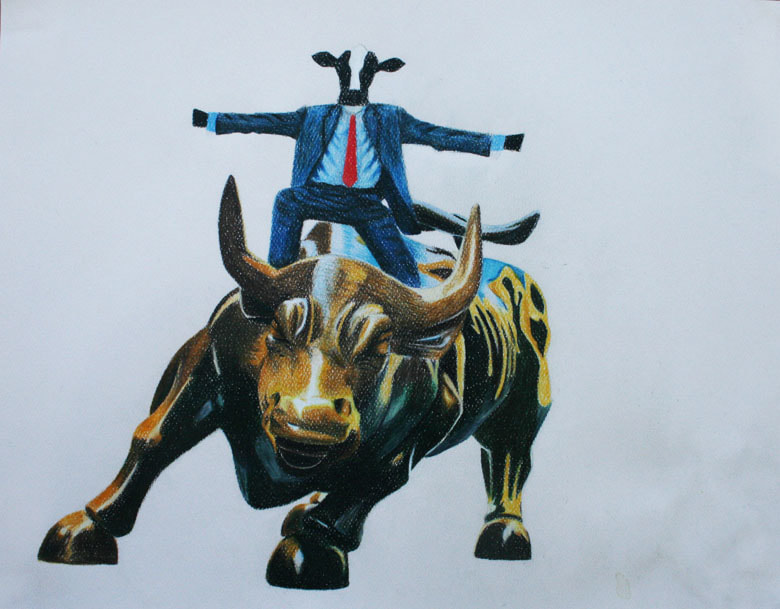 Submitted Statement: The central idea of this piece is to show the absurdity of humans in this day and age. I relay this theme by using a cow as the subject. The presence of a cow creates a humorous, whimsical, or even ridiculous mood to my piece. If there were a human in the place of the cow, the piece wouldn't be as strange. My art is a reflection on the fact that humans have evolved to the point of absurdity. This piece may seem very silly and playful, but the meaning runs deeper than the first impression. In my drawing, the cow is portraying a stock broker riding the "Charging Bull" on Wall Street in NYC. Though the bull is a symbol of prosperity and strength, depicting a cow riding it mocks that idea at the same time that personifying the cow mocks humanity and the importance of money. Greed, I believe, is the reason for all human suffering and that is absurd to me.
---
Haniya Hopson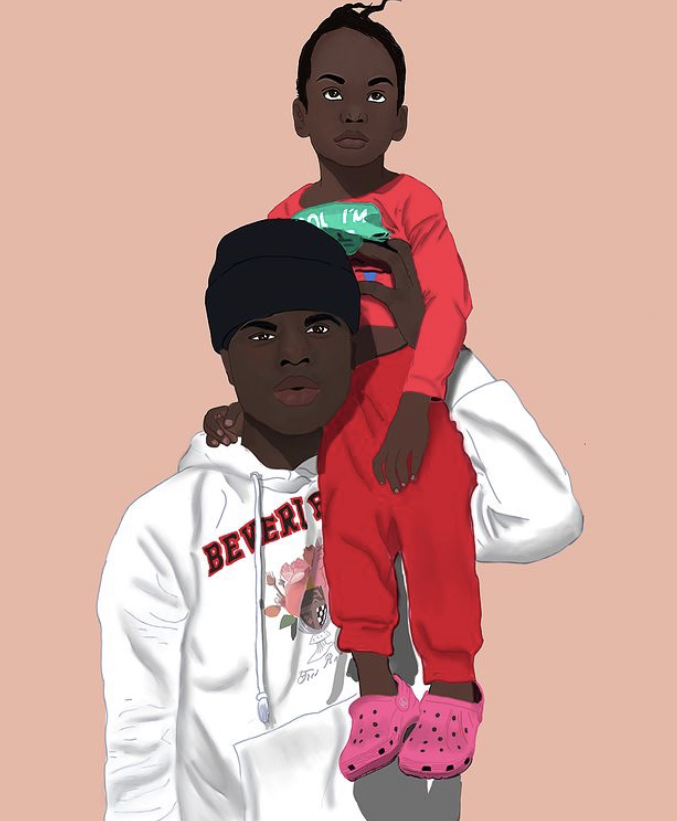 Submitted Statement: This is a portrait of one of my friends and his daughter. He was a teen father and stepped up to the plate to provide for his daughter. He liked my art, and mentioned possibly wanting me to draw him. I decided to draw him and his daughter to do something nice for him since it's so inspiring that he stepped up like he did.
---
Marli Messner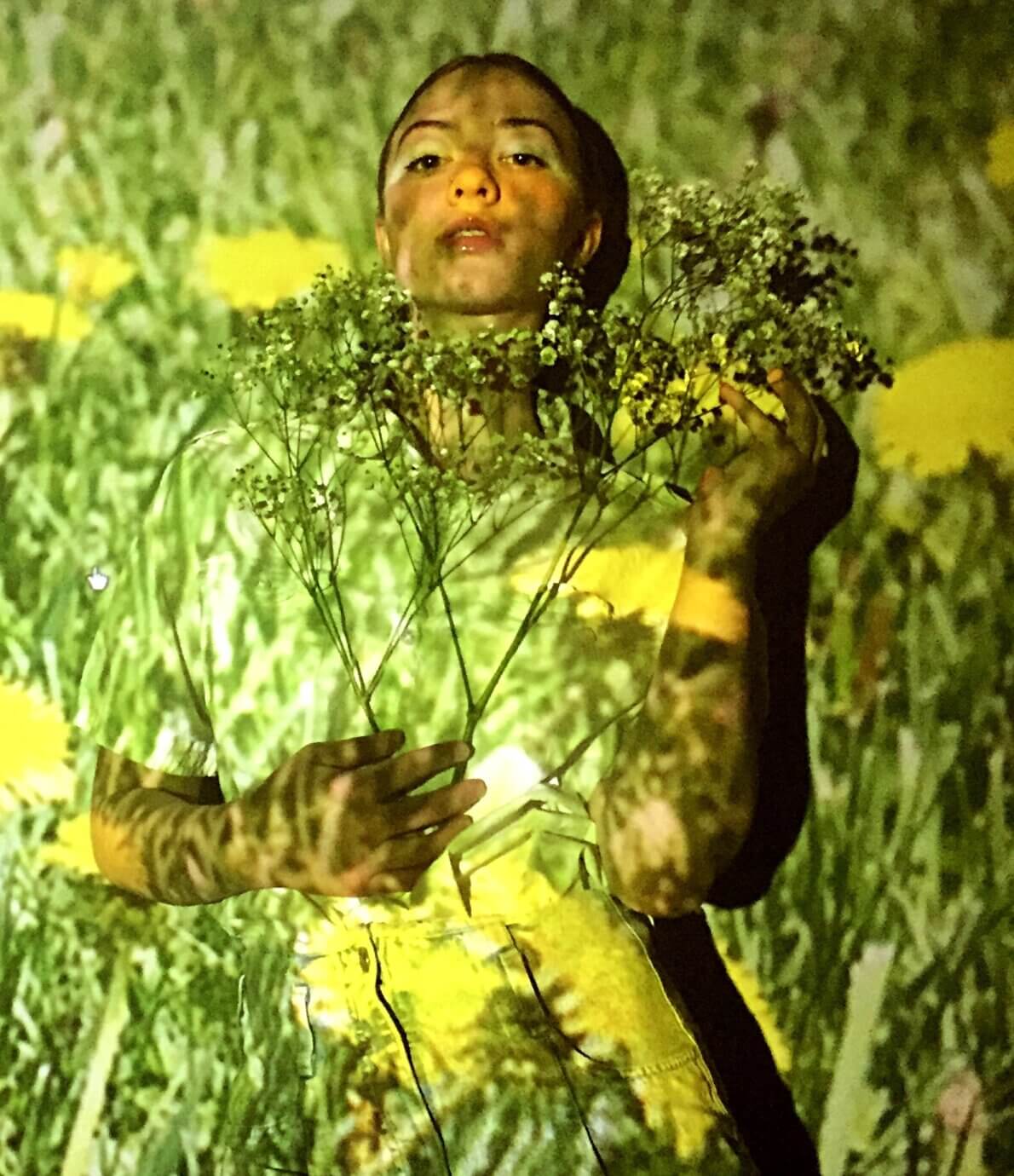 Submitted Statement: For this photographed self-portrait, I was inspired by 2 concepts, the first being human connection with nature, and the second being androgyny. I wanted for it to be unclear where I started and the grass and flowers began, representing the connection we are losing to the natural world. I wanted to play with gender presentation by wearing gender non-specific clothing and pulling my hair back. The natural world does not care so much about gender and neither should we.
---
Amiel Djoume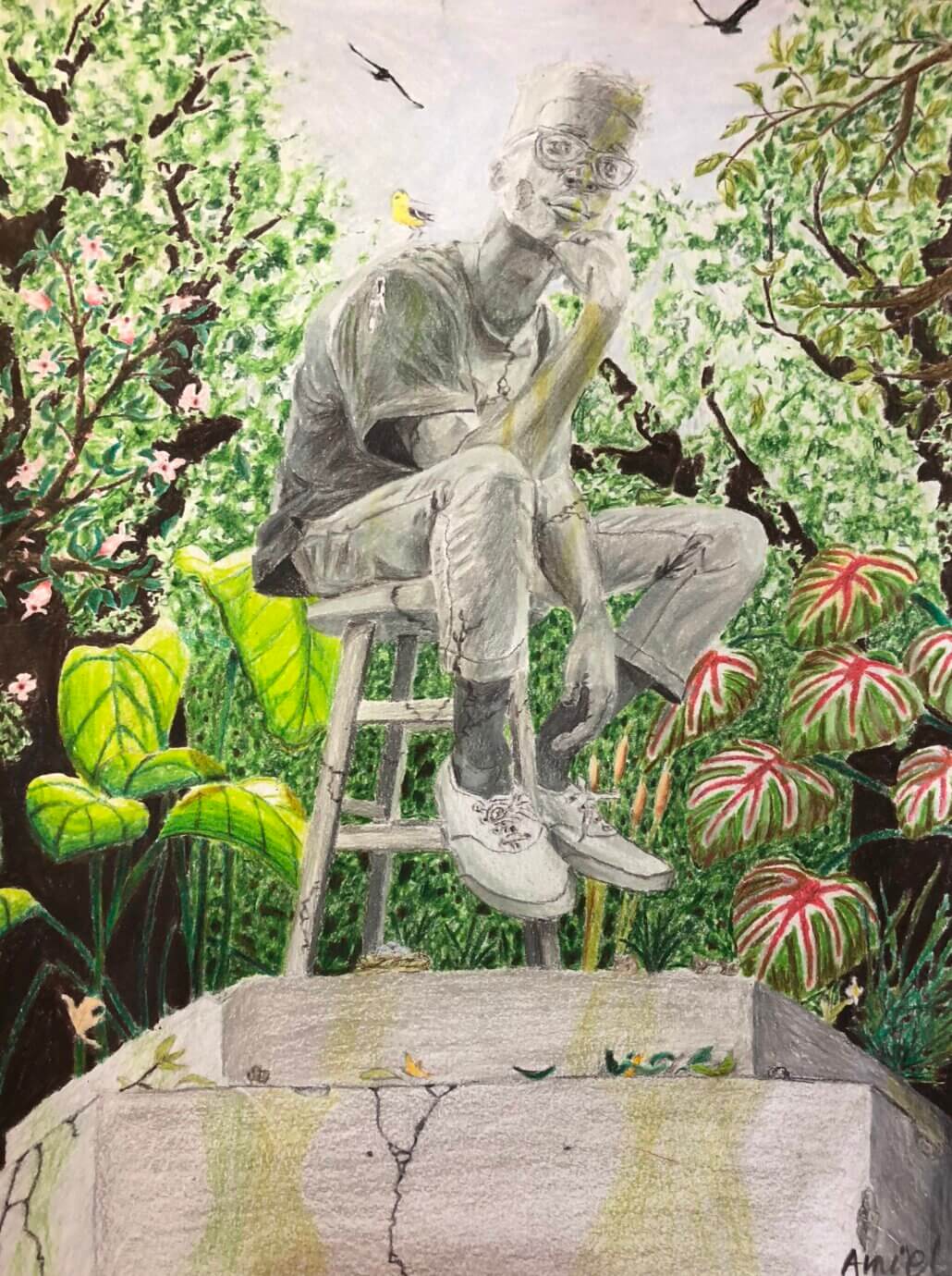 Submitted Statement: I was struggling in my AP 2D Art class my senior year of high school. I was submitting assignments weekly but nothing I felt I truly utilized the technique or medium of my pieces. The prompt for the new assignment is in: create a piece that reflects an element from your given photograph. My photograph was of an old shed in the forest with decaying wood and vines outlining its shape. To this day I cannot make out what came inside of me to do the most intense research in the medium of prismacolors, and tedious study of shading, dimensions, still-life, color, formatting, etc, etc, etc. Till I finally concluded the piece of "Modern Classic." I was shocked at how much I was able to deliver with this piece. Not much else I can say other than I am excited to share this with you. And thank you iCanvas for offering such a much needed scholarship to young artists!
---