Decorating Challenge: Stylish & Simple Looks With Holiday Art
We're quickly approaching the time of year for holiday decorating — some of us have already gotten a head start! There's a wondrous wealth of holiday-inspired art waiting to be displayed in homes this season, but with a limited window for decorating, it can be tough to know just where to put it.
We challenged a group of home decorators to include art in their holiday decor scheme. After checking out each of their unique looks, we identified a few formats that feature holiday art in a way that's stylish and simple.

Design a Holiday-Themed Vignette
Creating a festive vignette allows you to decorate without decking out your entire house. Find a nook and flex your style muscles by curating objects that tell a story when placed together. Your holiday print will fit right in — especially if it's on the smaller side.
---
Create a Warm & Welcoming Entryway
Seasons greetings take place right at your front door. Why not make the most of this space? Instead of a traditional wreath, consider placing a holiday art print next to your door, on your entryway table, or over your staircase to set a spirited tone for your guests.
---
Complement Your Christmas Tree
In most cases, a Christmas tree is the center of attention when it comes to holiday decor. Whether the style of your tree is all about natural greenery, has vintage farmhouse accessories, or has pops of glittery pink, hanging an art print that matches its vibe is a great way to pull that look together.
---
Light Up Your Fireplace
The holidays are a time for gathering, especially around the fireplace. As a focal point in many homes, a hearth is a prime spot for decorating. Consider hanging a holiday print above your mantle or leaning it on the stoop of your fireplace for a cozy, Christmas-ready look.
---
Swap Out Existing Prints
A tried-and-true way to change a room from familiar to festive in a single step is to swap an existing art print for a holiday one. Whether you're replacing the statement piece above your living room sofa or the cluster of prints above your bed, use the nails that are already in your wall to create a Christmas-fied space that's hassle-free.
---
… & Other Tips!
Feelin' crafty? We love this trick for creating a layered look by doubling-up canvas prints with a single nail.
If you're hoping to avoid making more holes in your walls altogether, try hanging your canvas bar over an existing item on your wall, like how this decorator did with her charming farmhouse windows.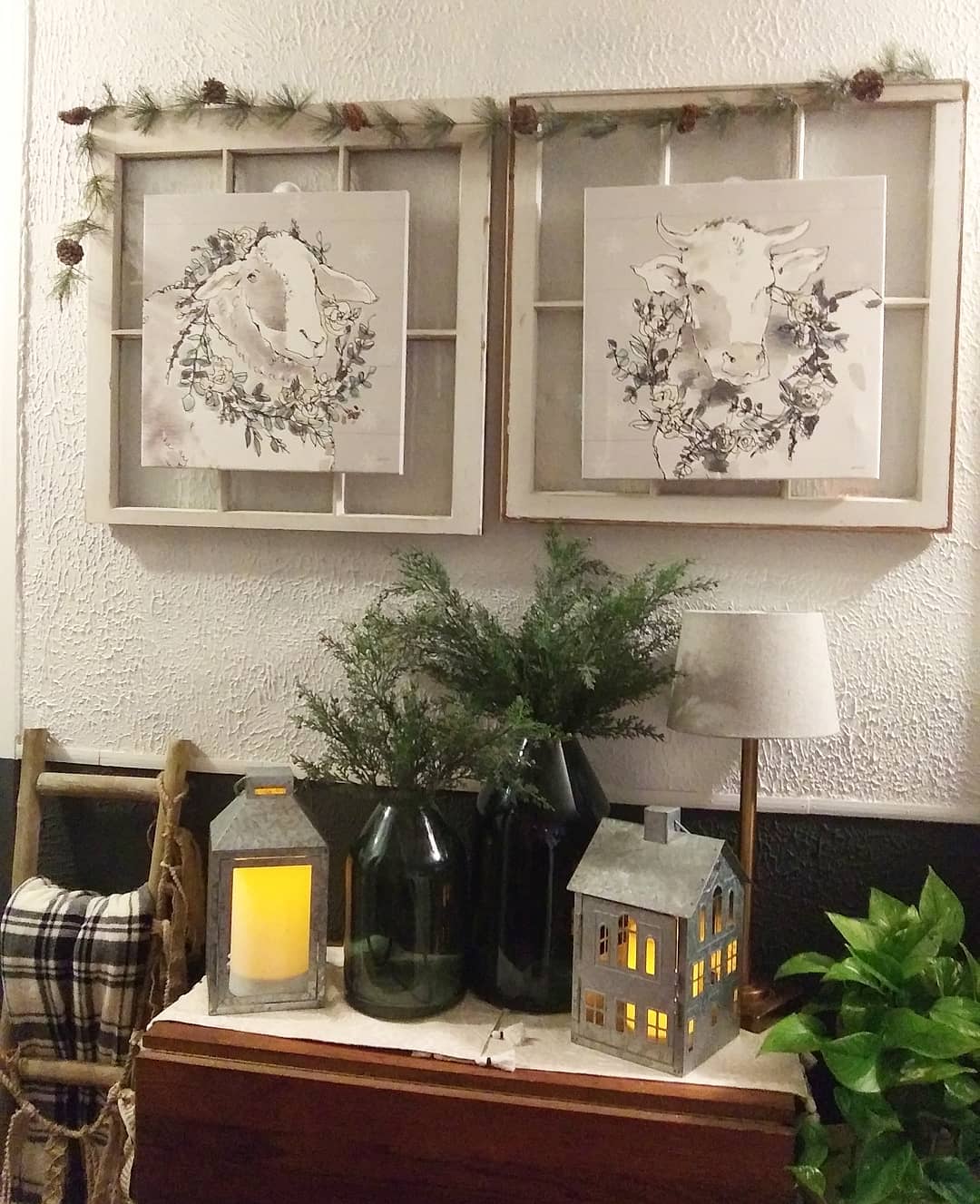 Have an empty space on a ledge in your home? Check out how this decorator created a centerpiece with her holiday print then framed it with greenery.
---
Looking for more holiday decor inspo? Find more art from iCanvas to bring magic to your home this season.
---