4 Artists Exploring the Struggles of Mental Health
These four artists dive into mental health challenges in their art in four different ways. Given their unique life experiences and artistic journeys, we'd expect nothing less! From emotionally dramatic to unexpectedly colorful, we're taking a look at how each creator explores humans battling with their minds.
Whether it's relating directly with the subject, feeling an emotional connection, or opening your eyes up to a different point of view, the representation of mental health in art is powerful. While prominent artists like Pablo Picasso, Vincent van Gogh, and Edvard Munch all projected their own mental illnesses into their art, other artists simply demonstrate the idea of struggles or how the world around us impacts our minds. Whichever way they express themselves, there's no denying the impact such raw and vulnerable artwork can have on its viewers.
No matter if the artwork showcases the artist's direct thoughts or is simply an interpretation of the problems that come with being alive, each of these creators highlight this topic differently. From surreal digital art to watercolor portraits, keep scrolling to find a new favorite artist.

1. Victoria Olt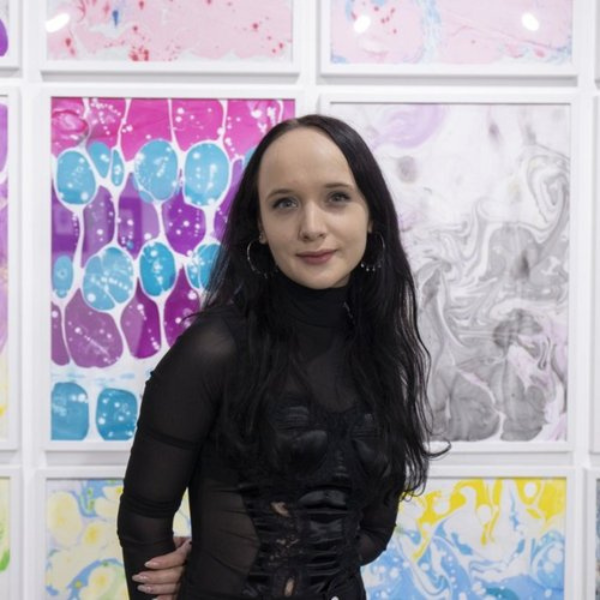 Inspired by her lifelong anxiety and fear of expressing her feelings, Victoria Olt's watercolors feature women and anatomical hearts, often combined with flowers and symbols. Showcasing her subjects in grayscale surrounded by the bright colors of the world, she emphasizes on the numbness of depression and feelings of disconnection people can have despite the vibrancy around them. Revealing what we "hide inside" she uses sorrowful facial expressions and emotional print titles that result in powerful yet vulnerable depictions of mental challenges.
From an exposed rib cage revealing anxiety to a fallen female with angel wings coming out of her bare back, we think her artwork can pull you into stirring displays full of raw emotion.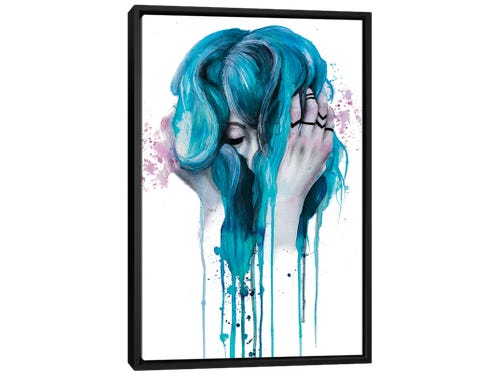 Click here to see all the ways Victoria Olt showcases mental health struggles in her iCanvas artwork.
---
2. Mario Sanchez Nevado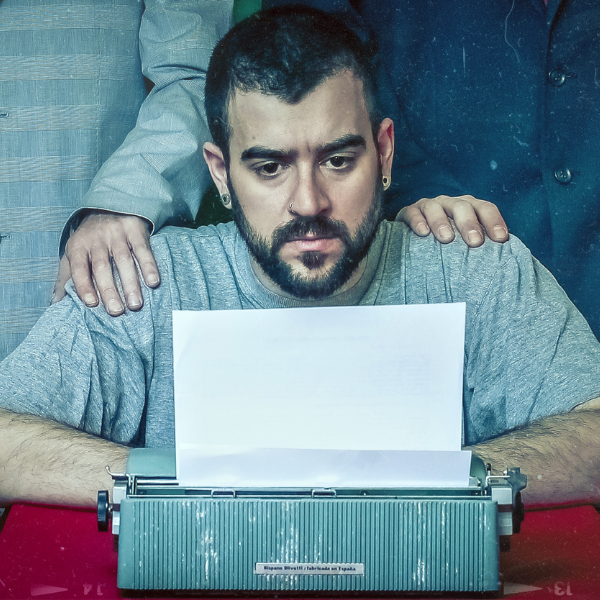 Taking inspiration from all things creative and conveying what he feels as a human being in this world, Madrid-based artist Mario Sanchez Nevado creates digital illustrations of people, nature, and objects that blend fantastical elements with modern symbolism. Highlighting the connection between ourselves, our mental health, and the world around us, he portrays the detrimental effects these emotions have on our bodies. Through striking creations with wounded flesh, surreal settings, and views inside of minds, he brings a level of intensity that makes us stop and think.
From bees surrounding a balloon head ready to pop to a deliberating statue bursting from the inside, his prints are full of intrigue. Making his artwork a great way to get lost in dramatic and edgy scenes.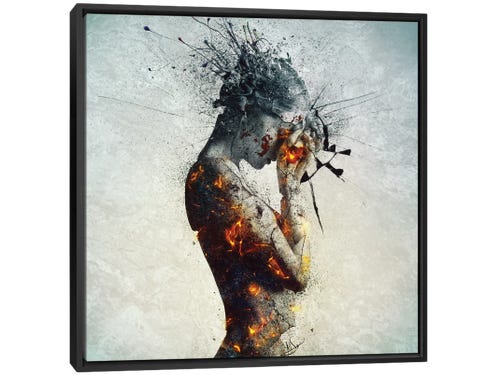 Click here for more mental health artwork from Mario Sanchez Nevado, and to see his other artwork available on iCanvas.
---
3. Deandra Lee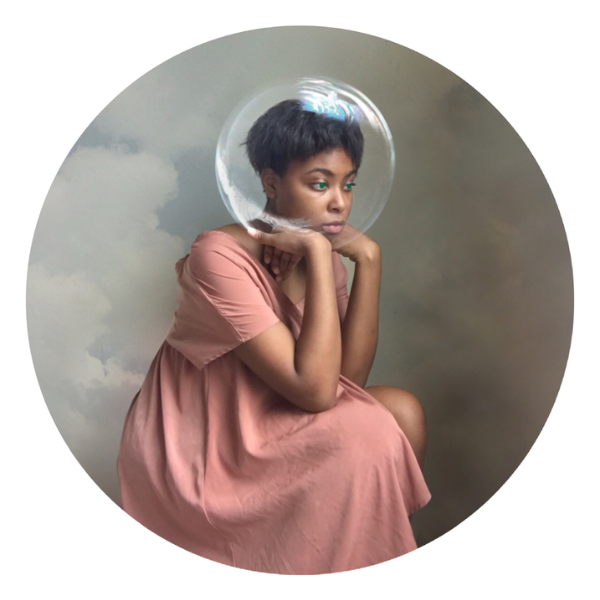 Wanting people to wonder about themselves, others, and the world we live in, Deandra Lee's self-portrait photography features scenes with birds, rain, flowers, and other natural elements. Using herself as the subject, her photos show a surreal interpretation of each emotion. Often incorporating symbolic birds associated with freedom and clouds representing moods, she brings feelings of curiosity and helps people experience what these emotions feel like.
From being cocooned in a clothing shell to staying home as a comfort zone, we think her artwork can bring you into powerful and thought-provoking worlds.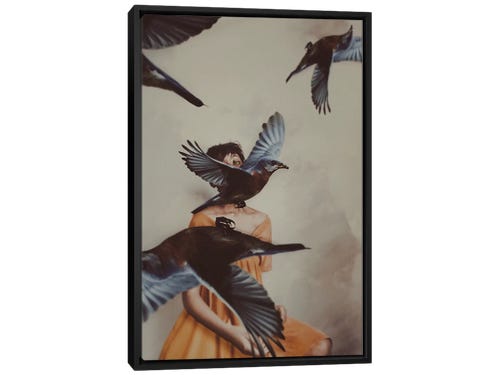 Click here to see all the ways Deandra Lee showcases mental health struggles in her iCanvas artwork.
---
4. Jaymie Metz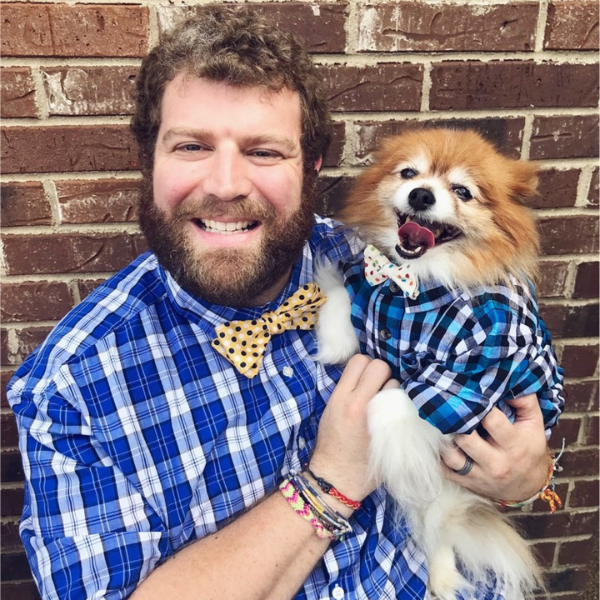 Originally pursuing art as a form of communication after being diagnosed with dyslexia and A.D.D., Jaymie Metz's colorful digital creations feature medicine, sweet treats, retro signs, and objects. Focusing on pills, their colorful artwork is full of commentary on medicating in society. Labeling each capsule with a different prescription, they emphasize on the narrative of people buying a way to get happy, looking for a way to get better sleep, or taking something to feel love.
From a bottle of happy pills to a balanced dose of chill and crazy, we think their artwork can be an interesting way to fill your space with a touch of dark humor.
Click here for more mental health artwork from Jaymie Metz, and to see their other artwork available on iCanvas.
---
Want to explore even more creations? Click here to see art reminding you to take care of yourself, and click here to check out all the artists iCanvas has to offer.