5 Tips for Decorating with Dog Art
We can always count on man's best friend to put a smile on our faces — in life, on television, and even in art! To many, home decor is an essential part of expressing who you are. If you consider yourself a "dog person," then why not show it on your walls?
Believe it or not, it's easy to decorate with dog art (or any art, for that matter) in a way that's tasteful, fun and Insta-worthy, if you keep a few general tips in mind.
Colorful Walls Make Black and White Art Pop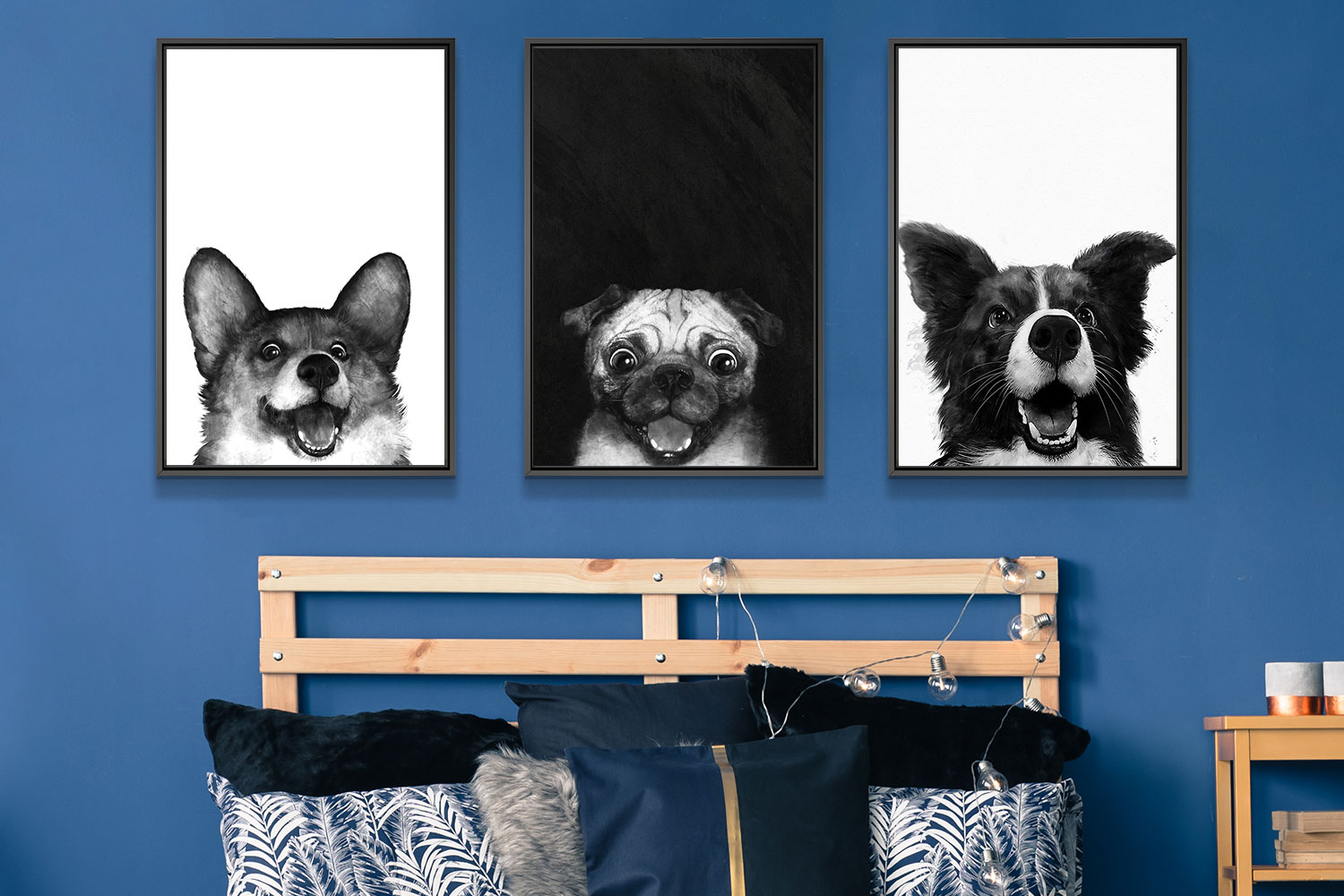 Traditional white walls not your thing? If you have a colored accent wall at home, hanging black-and-white prints can really make that wall stand out. Art with a black-and-white scheme creates a cool contrast to a painted wall of any hue. These joyful pooch prints by Laura Graves are cheeky and cute, creating an overall playful vibe.
Tip: To stay consistent with your art's black-and-white scheme, opt for black frames for added emphasis and sleekness.
Framed Paper Prints Make Busy Art Easier on the Eyes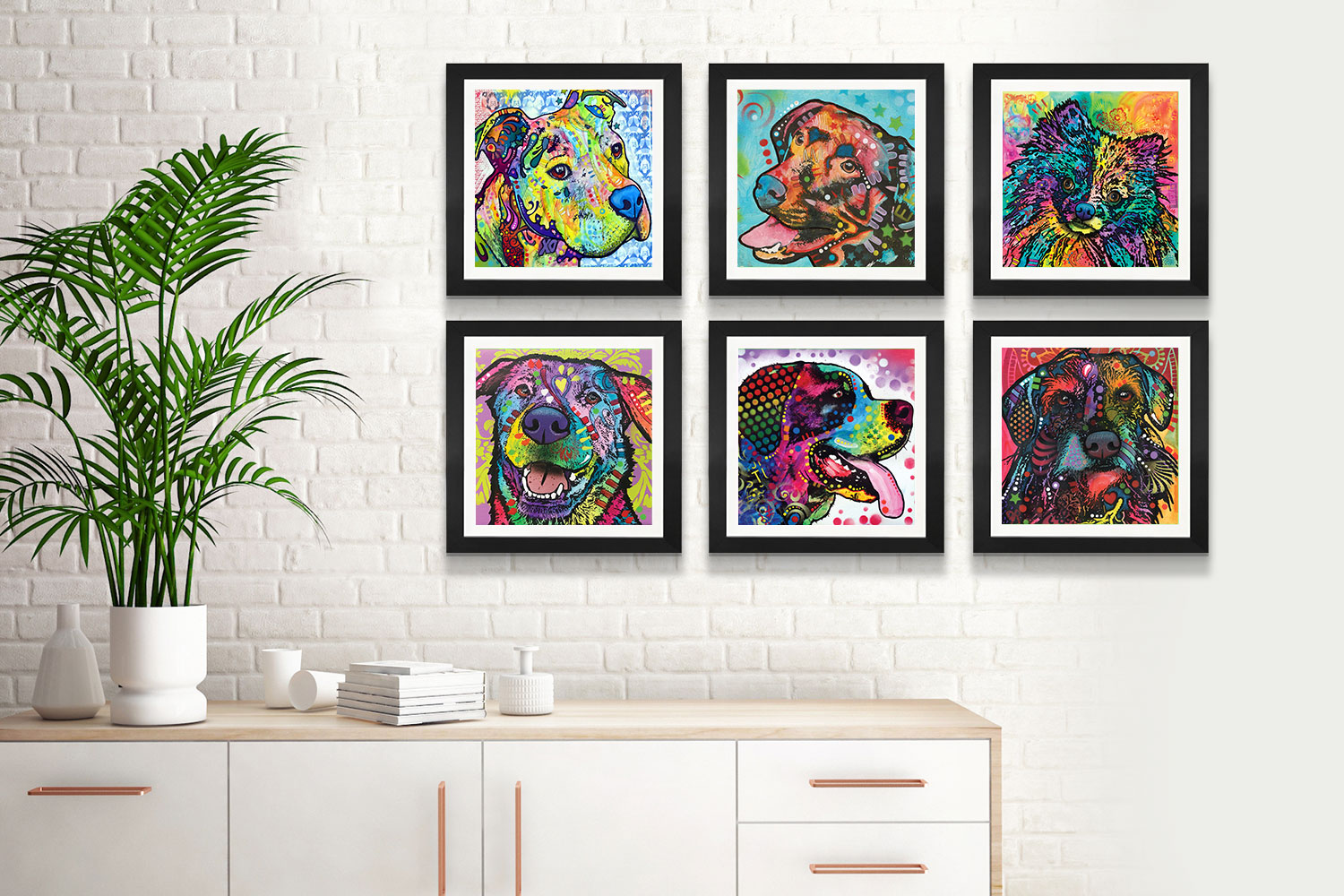 Wildly popular pup artist, Dean Russo, is an expert at capturing lovable canine energy with vibrant bursts of color and detail. When it comes to decorating, it can be intimidating to start with prints that have such a wide range of hues and ornamentation. One way to offset multi-faceted styles of art, like pop or graffiti, is to give them a frame with matting. The frames give the art a more uniform feel when displayed together, while the matting gives your eye a place to rest.
Tip: Group your framed paper prints into grids of three, six, or nine for a look that's extra cohesive and super trendy.
Patterns and Textures Mesh Better Than You Think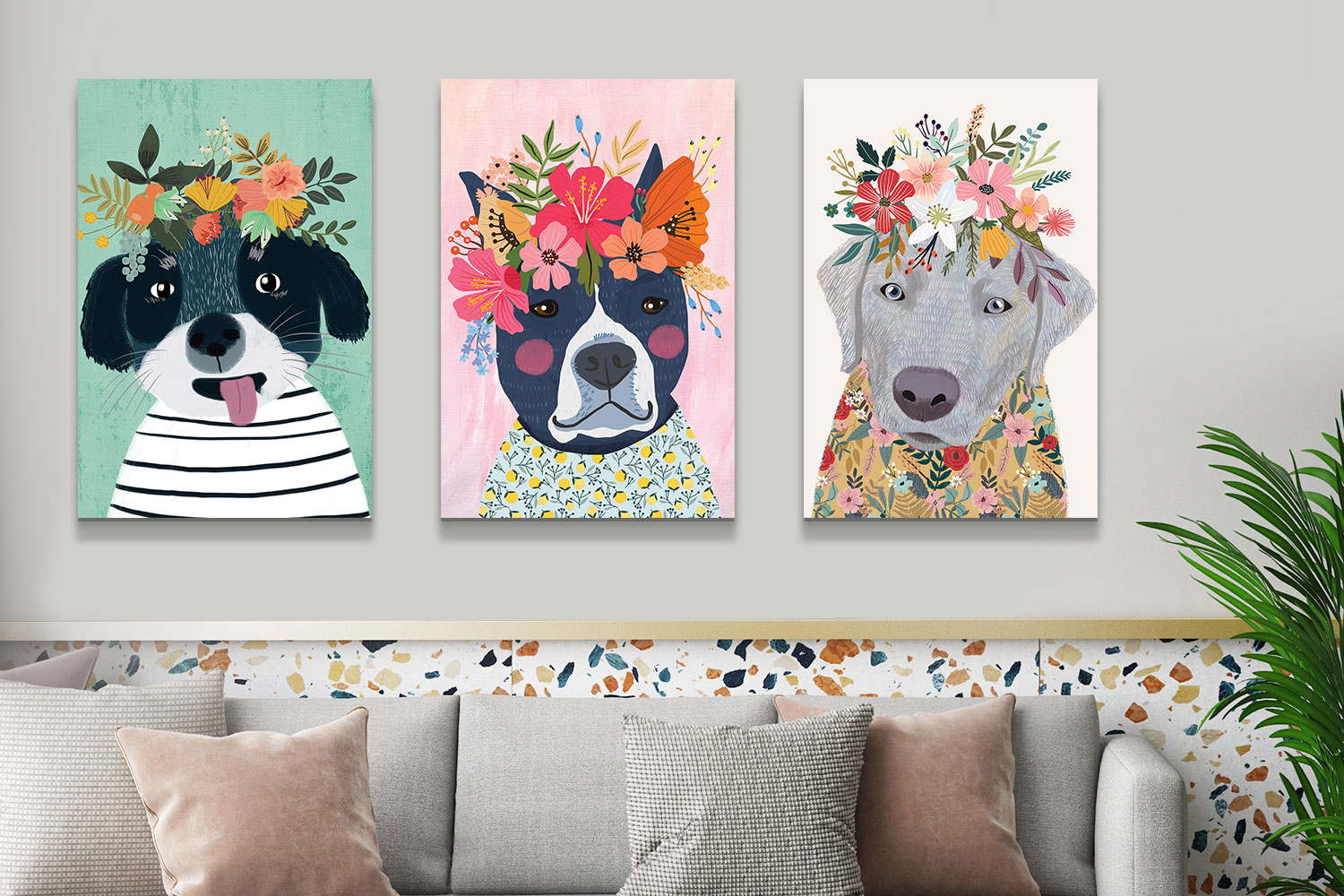 When working with patterned art, wallpaper or textiles, we tend to err on the side of caution by using only one amongst a primarily monochrome decor scheme. Don't be afraid to experiment! Some of the chicest looks are achieved with tasteful and purposeful blends of patterns and textures. These Spring-ready doggie prints by Mia Charro are the perfect touch to this room's already light-hearted look. The floral detailing in the art complement the patterning on the walls and the colors and textures of the throw pillows.
Tip: When mixing patterns, make sure to find colors that match within each of the patterns to bring it together.
Metallic Decor Can Enhance a Neutral Space
Neutral decor is easy and functional — but sometimes, it's nice to throw in a little decorative touch here and there. More often than not, metallics are an easy way to add a little glam to any space. These simple and cute prints by Veronique Charron fit nicely in this room's gray color scheme but have just enough shimmer to draw attention.
Tip: Play up your metallic art with additional metals in the room, like silverware or furniture. Complete the look with metallic frames for your art!
Colorful Standalone Art Can Inspire the Entire Room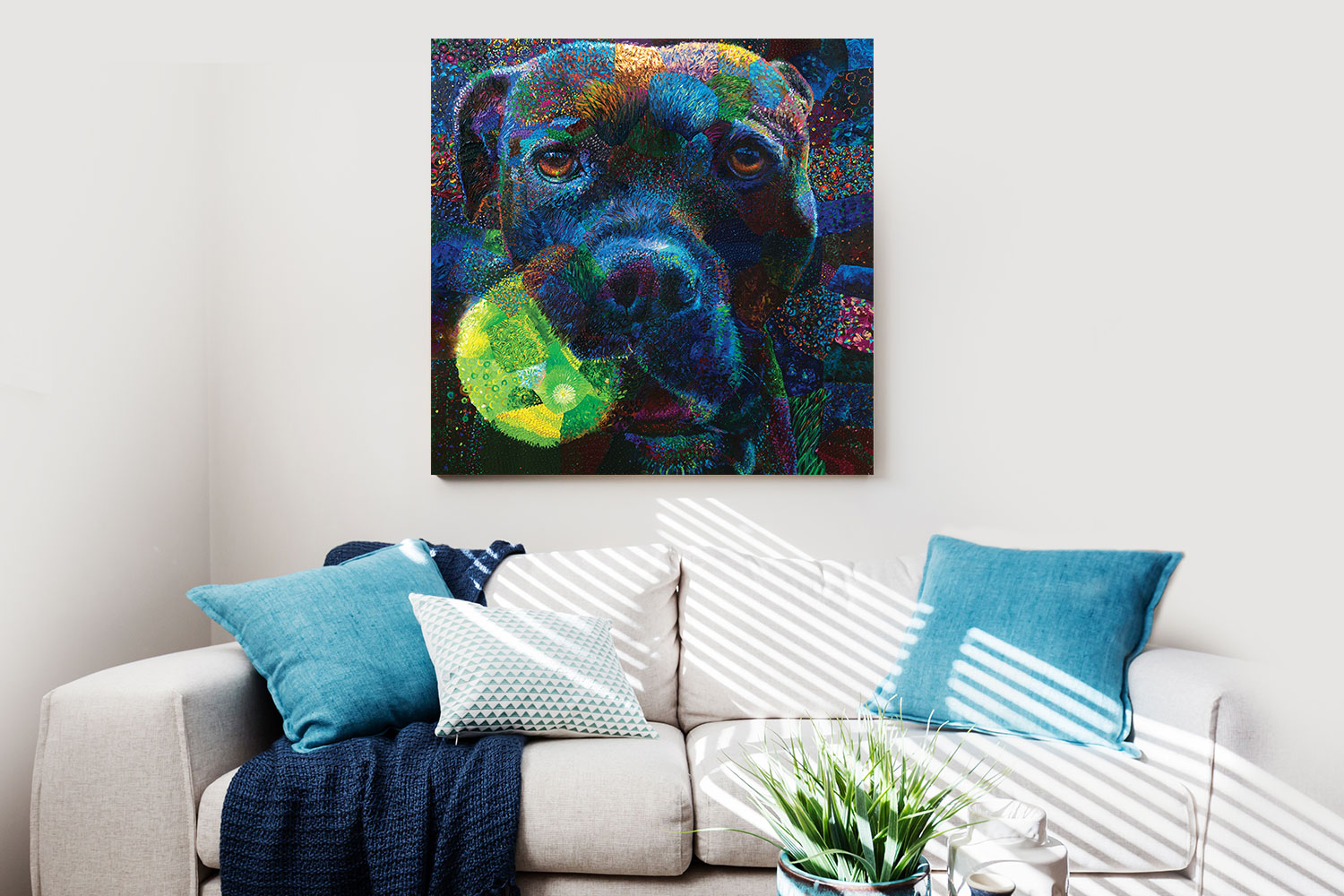 Many people decorate their space, then select art to complement what's already there. However, you can also do the reverse and let your art guide the rest of your decor. A failsafe practice is to identify a few colors within the art and match them with accent pieces, such as throws, rugs, or tchotchkes on your bookshelf or mantle. This stunning print by Iris Scott looks blue at first glance, but when you look closer, you see a multi-hued play of light green, golden yellow, magenta, and deep purple. You can see the light and dark blue carried over to the throw pillows in the room, and the light green reflected in the plant on the coffee table.
Tip: While it's fun to let your art inspire your decor, going overboard on matching accent pieces can look too intentional. Just a few is plenty to do the trick.
---
Ready to deck your walls with adorable dogs? Check out our massive dog art collection. Looking for more decorative tips and inspiration? Learn how to refresh your space this Spring with advice from our Style Team.