7 iCanvas Artists Inspired By Frida Kahlo
Artists are inspired by innumerous things. Oftentimes, it's the work of others that kickstart a creative path or ignite a new passion. Frida Kahlo is well regarded for her talent and legacy, and a renowned symbol for artists across disciplines. Many iCanvas artists claim Frida's artwork, energy, and purpose as inspiration, and today we're highlighting seven of them.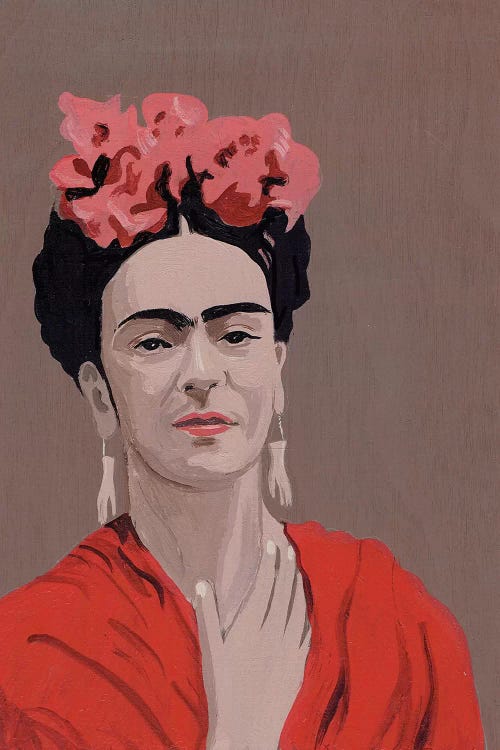 In honor of Frida's birthday, we're sharing some iCanvas artists who name her as an all-time favorite artist and inspiration. Large or small, in spirit or on canvas, there's no doubt Frida Kahlo's impact on the world extends well beyond her time.
Katarina Kühl
If you appreciate the inexplicable beauty of the "ugly" and unconventional, look no further than Katarina's captivating and macabre portraits. Alongside Frida, she credits Mercedes Helnwein and Laura Laine as favorite artists, whose influence shows in her blend of fashion illustration and pop surrealism.
Dig this style? View more of Katarina's art here.
---
Meghan Oona Clifford
In her world of vibrant, cosmic figures and abstractions, Meghan's work represents her self-claimed purpose of creating soul-awakening art. Frida is one of her favorite artists, alongside other greats like Marc Chagall and Georgia O'Keefe. Want to learn more about Meghan's vibe? Read all 5 Questions With Meghan here. 
Like what you see? Click here to see more artwork from Meghan Oona Clifford.
---
Prashanti
Prashanti's portfolio of regal figures and picturesque landscapes are a celebration of bold, harmonious compositions and South Indian culture. Her artistic inspirations include Frida Kahlo, Raja Ravi Varma, and Bob Ross, representing an awesome variety in styles. Check out more of her art below.
Like what you see? View more of Prashanti's art here.
---
Sasha Robinson
Fueled by a passion for life and unique perception of people, self-taught artist Sasha Robinson explores her vision of the world with vivid color and eroticism. In addition to Frida, she lists Thomas Saliot and Cindy Press as inspirations, and their influence can definitely be seen in her style. Check out more of her work below.
Does this style speak to you? View more of Sasha's art here.
---
Françoise Wattré
The bold floral abstracts Francoise creates are a poetic reflection of her inner self, and invite viewers to tap into their deepest intuition. Some of her favorite artists include Frida, Camille Claudel, and Alena Hennessy, of which the latter share similar, expressionistic vibes. Take a look at more of her work below.
Feelin' this style? View more of Francoise's art here.
---
Julia Gash
Julia's signature style of travel posters evoke that heartwarming feeling of hometown love, and make for a great visual homage in any space. In addition to Frida, Julia mentions other iconic artists like Andy Warhol and Picasso as her favorites. Check out more of her work below.
Love this style of location celebration? View more of Julia's art here.
---
OLena Art
Contemporary impressionist OLena Art uses vibrant hues and texture to depict the beauty and sensuality of nature. Frida is one of her artistic inspirations, along with Jackson Pollock and Leonid Afremov.
Love what you see from Olena Art? View more of their art here.
---
Want to learn more about our artists inspirations along with other fun facts? Check out our 5 Questions With interview series. Looking to find some of those fabulous Frida vibes of your own? Browse our collection of Frida-inspired prints.