5 Questions With Shatha Al Dafai
iCanvas artist Shatha Al Dafai uses a one-line technique to create compelling minimalist portrait illustrations without lifting the pen. The self-taught Omani artist's unique style and ability earn international recognition from galleries, brands, and fans. We're proud to offer their work on iCanvas and wanted to take a minute to introduce you to the human behind the art.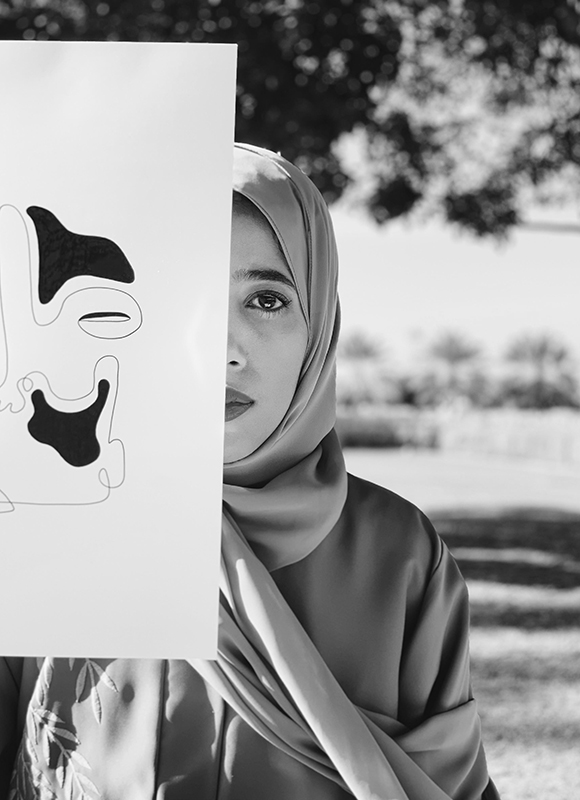 Keep reading to get a taste of what inspires their work, the style of music they create to, and other artists they appreciate. You might be surprised to learn what you have in common!

Who are 5 of your current favorite artists, living or dead?
Picasso, Fernand Leger, Le Corbusier, Henri Matisse and Jean-Michel Basquiat
A portrait of Jean-Michel Basquiat composited with an illustration by Shatha Al Dafai
---
What band or musician would you listen to while creating your art?
Tupac, J Cole, Alter Bridge, Chopin symphonies, Tremonti, old Hip Hop
---
If you could master any other form of creative expression, what would it be?
Writing and Photography
A photo and illustration by Shatha Al Dafai
---
What is one person, one place, and one object that inspires you?
Myself, The Ocean and Books
---
What is something about you that others may be surprised to learn?
That I am a Mechanical Engineer
---
Check out some of Shatha Al Dafai's creations below, and click here to view their full iCanvas collection.
---